The Ithaca College Faculty Council voted Tuesday to conduct a survey among the college's faculty members to determine future implications of using a new anti-plagiarism software it approved at itslast meeting.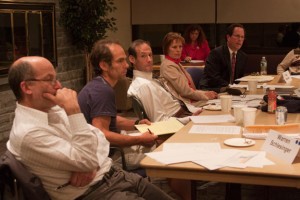 Michael Taves, executive director of Information Technology Services, previously made the recommendation for the software at a council meeting in March. Since then, the council gathered input from faculty members, most of whom encouraged the anti-plagiarism software, Taves said.
The software program, Turnitin, uses a text comparison database to check students' papers with sources found online to uncover plagiarism. The software can be integrated throughout the campus through Blackboard and other learning management systems, according to Turnitin's website.
The software would cost the college $17,000 a year, or it could be purchased at a smaller cost for specific departments to use. Departments would distribute the software to faculty, Taves said.
Warren Schlesinger, council member and associate professor and chair of accounting, suggested faculty test the program.
"I would recommend that we [let it be used by] any two departments that want to use it in a holistic way in their departments, and then have funding for 30 faculty members to test it out," he said.
Peter Rothbart, council member and professor of music theory, history and composition, said the new software should be made available to the entire campus.
"This is just another tool available to the faculty," he said. "If you want to test an experiment, then you do it for the whole campus for one year and then see [the results]."
Carole Dennis, council member and associate professor and chair of occupational therapy, said the software would also be available for students to use.
"A student can check their own papers to determine how close they are [to plagiarizing] or how much they've strayed," she said.
The survey will circulate among faculty within the coming weeks, and a decision will be made regarding how the software will be implemented shortly after.