Ithaca College will host a series of events for alumni, faculty, staff and students this weekend at its annual homecoming celebration.
This year's Homecoming and Alumni Weekend, called Fall Splash, will give students the opportunity to network with alumni while some returning graduates celebrate class reunions.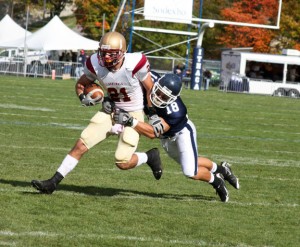 President Tom Rochon posted a video message on the college's website early in the semester in an effort to encourage alumni to register for the weekend of events and networking.
"It's an opportunity to revisit, reminisce and reconnect with your fellow IC alumni," Rochon said in the video. "We have a fantastic weekend planned."
Gretchen Van Valen, director of the Office of Alumni Relations, said this will be the college's second year combining homecoming with reunion events. She said the college made the move in an effort to get more alumni to revisit the college.
"We wanted a weekend to not just be for reunion classes but for all alumni to come back," she said.
Brenda Carlisle, the events coordinator of the Office of Alumni Relations, said nearly 800 people attended last year. Carlisle said tomorrow's big event will be the Alumni and Senior Class Happy Hour.
"At this event seniors can mingle with alumni and there will be the announcement of the senior class gift," she said.
The schools at the college are also each doing their own individual programs tomorrow, such as panel discussions, receptions and nature walks.
Carlisle said the main event tomorrow night is the hall of fame induction ceremony, where nine former athletes and coaches will be inducted into the college's hall of fame. All of these events will lead up to "Duckpalooza" at 10:30 a.m. Saturday.
"Students had the opportunity all week to get extra ducks by attending the student events that are going on," Carlisle said. "When alumni and guests check in … they will get a duck and the idea is that all of the ducks will go up to the fountain Saturday morning and they will be dumped in the fountain. Then Rochon will take a net and draw out ducks for prizes."
As for this year's attendance, Van Valen said as of Monday, close to 400 people registered for events, and a large percentage of those are alumni.
Dave Wohlhueter '60 has been working with Jim Valentine '60 to coordinate a 50-year reunion for his class. Wohlhueter said about 40 alumni from the class of '60 have registered for the event.
"That is an all-time high for our class," he said. "I talked to classmates that I hadn't heard from in 50 years."
Wohlhueter and Valentine have organized a Friday night get-together for their class at the Elks Lodge on Coddington Road. Wohlhueter said he is looking forward to having breakfast at Rochon's house Saturday morning.
"The Alumni Office has done a fantastic job of planning the weekend," he said. "And we all will watch the Bombers whip up on Hartwick College at Butterfield Stadium in the afternoon."
While there are many events for alumni this weekend, there are also events planned for students.
Student Government Association President Kevin Fish said he will be judging the Banner Competition at the Pep Rally in the Fitness Center from 7 to 9 p.m. Students will have had all week to submit Fall Splash-inspired banners to try to win $250 for their student organization.
Sophomore Rachel Heiss, student director of the Alumni Association, said it is important for current students to connect with alumni at these events.
"Fall Splash is a time to group all past and present students so we can show our passion for Ithaca College," she said. "It's a chance for students to see what their future may be like as alumni and it's also a chance for alumni to catch up with students living their past."
For a full schedule of Fall Splash Weekend events, visit www.ithaca.edu/alumni/fallsplash.