The third and final candidate in Ithaca College's search for a dean of the School of Music visited campus Wednesday, where he spoke about several issues including the fractionation of music and the need for more collaboration between the college's schools.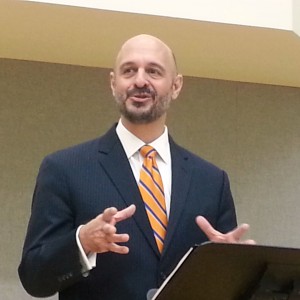 Karl Paulnack, director of the Boston Conservatory's Music Division, addressed a crowd of about 30 people in the Beeler Rehearsal Hall in the James J. Whalen Center for Music.
Last year, Greg Woodward vacated the post of dean of the school of music to take on the post of president for Carthage College in Keno­sha, Wis. The interim dean is Craig Cummings.
The search for a new dean commenced in August. A search committee, made up of 12 to 14 members, is headed by John Sigg, associate dean of the school of Health Sciences and Human Performance.
The first finalist, Jamal Rossi, addressed the campus on Jan. 28, while the second finalist, John Richmond, spoke on Feb. 4.
During his presentation, Paulnack, who was on the music faculty at Ithaca College for 12 years from 1986 to 1998, said he was concerned about the fractionation of music that is happening across the country.
Paulnack said the artificial divide between classical music and popular music did not exist a hundred years ago.
"In my neighborhood in Boston, for example, there are completely separate schools set aside for the study of different kinds of music," he said. "A percussionist would attend the Berklee School of Music if she hopes to play in a rock band but could attend the Boston Conservatory if she'd like to play in a symphony orchestra. That divide didn't exist a hundred years ago. The idea that a musician would come out of music school and not be able to play all different kinds of music would have struck them as ridiculous."
Using several anecdotes, Paulnack said music is an important part of everyone's lives.
"Music captures and holds our experience the way a container holds a liquid," he said.
Paulnack recounted a story of a mother who had written to him after her son's death. Though she disliked the music that her son used to listen to, Paulnack said, she found solace in that music after his death.
"Hardly anybody goes through the process of dying or the process of falling in love without engaging in music," he said. "We almost always use music in those scenarios, because those experiences are so intense that we can't engage them without extra support."
Addressing his goals for the college, Paulnack said he would aim to make Ithaca College the model of comprehensive music if he became dean.
"What the world needs most in my opinion — more than advocacy, more than speeches, more than funding — is models," he said. "It needs people to show what is comprehensive practice, what is comprehensive understanding of music. My intention, were I to become the dean here, is that Ithaca College will be that model, because Ithaca College is perfectly set up to be that model."
He also said it is important for schools across the college to collaborate.
"I just noticed that HSHP has a program to rehabilitate stroke survivors," he said. "There should be music in that. Music is a huge tool in rehabilitating stroke survivors."
Alex Shuhan, associate professor of performance studies, was a member of Paulnack's audience. Shuhan said he believed the candidate's ideas for the college would enhance the college experience.
He also said Paulnack gave importance to those who work in the field of music.
"At a time when so often those of us who are passionate and involved in music and their art are sort of marginalized as being non-important, he spent the whole time talking about exactly why what we do is so phenomenally important," Shuhan said.
Sigg said the final hiring decision will be announced next month and will be made by the provost, with input from members of the search committee. He said the quality of candidates who presented is a reflection on the college's School of Music.
"I think we did good work," he said. "We have heard nothing but positive comments about all the three finalists, and I think it just again speaks to the quality of the school of music and how well it's respected across the entire country."
Read about the other two candidates, Jamal Rossi, executive associate dean and professor of woodwinds at the Eastman School of Music; and John Richmond, a director at the University of Nebraska-Lincoln.