Mike Serventi '72, a retired member of Ithaca College's Board of Trustees, passed away April 18. Serventi, 61, was riding his bicycle in Florida when he was struck by a car and killed.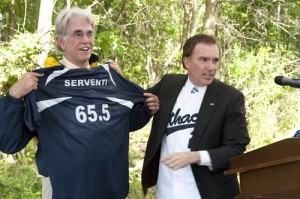 During his time at the college, Serventi played an integral role with the fundraising and planning for the Athletic and Events Center, which was completed in the fall. He was an active volunteer in the Perry, N.Y., community, including the United Church of Warsaw, Wyoming County YMCA and the Perry Rotary Club.
President Tom Rochon issued a statement to the college yesterday extending his condolences to Serventi's family. Rochon also said Serventi's impact on the college will not be forgotten.

"Mike was a friend and colleague, an inspirational leader and a shining example of the highest levels of personal and professional achievements accomplished by an Ithaca College graduate," Rochon said in the Intercom news release. "He made an incredible impact on each and every person he touched. We were privileged to have him as a member of our board and will always hold him in our hearts as 'one of our own.'"
Check back later for more updates.