The swarm of hungry people who stumble out of the bars on a Saturday night on The Commons now have a new food heaven to flock to. Visitors can plop down in comfy chairs and couches and enjoy a different kind of late-night dish — waffles.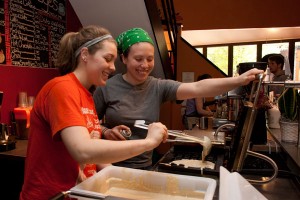 Julia Pergolini '09 and Alexis Randall '09 recently opened Waffle Frolic, a café on The Commons offering waffles, donuts and paninis. The shop gives Ithacans a place that functions both as a late-night waffle bar and a laid-back lounge for lunch dates or a study space.
After college, Randall and Pergolini spent the summer working at GreenStar and planning for a cross-country road trip to discover the late-night food of America.
Julia Pergolini '09 and Alexis Randall '09, owners of the recently opened Waffle Frolic.
The idea to start the business came after the two were in a car accident this past summer in New Jersey while visiting family. Randall said after that frightening life experience she wondered what she was waiting for. So when she and Pergolini saw a "for rent" sign on the space formerly occupied by That Burrito Place, they claimed it as their own.
Randall said their initial plan was to open a coffee shop, not a restaurant, but soon realized that in order for their business to thrive in Ithaca, they needed to offer another dimension.
"There's so much coffee in Ithaca that we needed something else, so brainstorming sessions led to waffles," she said. "Waffles are fun, but I never thought I'd make a career out of waffles."
Having spent four years in the town as a college student, Pergolini said she noticed the gap between students and locals and wanted to bridge the gap by creating an environment that would appeal to all types of customers.
"We love Ithaca," Pergolini said. "We liked living here, but in a lot of ways we also felt like it was missing an edge. Our primary drive for this place was to create a space that wasn't available to us when we were students. We wanted a gathering space, a community space, a place where people frolicked."
Waffle Frolic has a different waffle for every type of person: classic buttermilk, hemp and buckwheat and a vegan, gluten-free option. Twelve fill-ins and add-ons are also available, such as lemon curd, chocolate chips, fresh fruit, coconut and apple butter.
Since their grand opening April 17, they've proven Waffle Frolic can attract many different people — from the bar crowds on weekends to families and college students. Pergolini said the variety of customers has shown the Frolic is a vibrant addition to downtown.
"Our concept was built out of this town — our vision of what this town should be," Pergolini said. "The city of Ithaca is trying really hard to improve the downtown district, and I feel like we're contributing to that."
Kristin Lewis, operations manager for the Downtown Ithaca Alliance, said the addition of Waffle Frolic has created more food options for the weekend bar crowd — Waffle Frolic is open until 2 a.m. on weekends — and will play a role in improving the appearance of The Commons.
"People like to come downtown and have choices, and this is just a really different choice that we haven't had before," she said. "Right now what's open late at night appears to be the pizza places, and Waffle Frolic is a great addition. When lights are on in businesses later in the evening, it contributes to a feeling of safety and security for the people that are down here."
Adam Girgenti, a sophomore English major, decided to visit Waffle Frolic after Randall and Pergolini stopped by VIC's 50-hour marathon for Ithaca's Loaves and Fishes with free coffee for him and the other DJs.
"A couple of my friends who I went with said they wanted to go back and bring their work and study there with a waffle and hot chocolate," he said. "It was very relaxed and was a pretty cool setting."
Michele Maciejewski '09, a barista and event planner at Waffle Frolic, said the restaurant plans to create a community space by offering public events, including a monthly book club, open mic and spoken word nights, comedy nights, sampler days, kids' events, art showings and private parties.
"We want to create a user-generated content-based theme for our events," she said. "They are about bringing people together to share interests and creative energy in our positive space."
Pergolini did not start college with the intention of opening a restaurant and said her degree in English doesn't directly apply to her job now. However, she said she has experience working in the food service industry that she can directly apply when serving and cooking for customers.
"I'm totally used to dealing with crowds and trying to push through a whole line of orders with all of these eyeballs staring at you waiting," she said.
Randall said her degree in integrated marketing communications is helpful because she is now able to use her internship experiences as well as her advertising and art direction classes in deciding how to appeal to customers through social media and store design. She said that being young and having fresh knowledge of the business world will help them establish themselves in the Ithaca food scene.
"Being such young business owners, we know exactly how to use Facebook or Twitter," she said. "Someone who [is] maybe 40 and has a business and is a little hesitant is not as fluent in social media as we've become, so that's definitely to our advantage."
The managers don't have much free time now that they spend late nights keeping their store open, and they are currently earning minimum wage. However, Randall said now is an opportune time to put all time and efforts into the business with hopes of making more money later on.
"The one thing about being so young and doing this is that you have no responsibilities really," she said. "You don't have kids, you don't have a mortgage, you don't have all these things that are hanging over your head. It's like, 'Focus on this, do it right and then add the baggage later.'"