Composer Jorge Grossmann, a 2010 Guggenheim Fellowship recipient, has joined Ithaca College as an assistant professor of music theory, history and composition.
In June, Grossmann was awarded the fellowship, a grant awarded to midcareer professionals to provide for greater creative freedom in their work. His compositions have been performed throughout the United States, Europe and Latin America.
Contributing Writer Kelsey Husnick sat down with Grossmann, a native of Lima, Peru, to talk about his musical career and winning the Guggenheim Fellowship.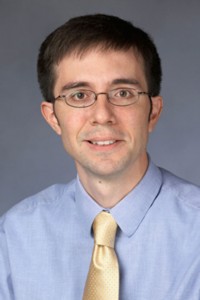 Kelsey Husnick: What first got you interested in music?
Jorge Grossmann: I come from a kind of musical family, so from my mother's side, we … had no other option than to study musical instruments, so I started very early. Then, after I studied a little bit of piano and violin, I became interested in composition.
KH: Where do you get ideas and inspirations for your compositions?
JG: My works are inspired sometimes by literature and visual arts, or even film, so I tend to draw it from there. But these are just parts of departure that already pave my work and other works of art — just serving as a beginning, a starting point, [and] as a trigger. The work just develops on its own after that.
KH: Where do you think your favorite place to perform has been?
JG: Let's put it this way: My favorite place will be the one I haven't been to yet because that's the one I have the most interest in getting to know. I like to travel, and I like to get to know other cultures. Not only for composers, but [also] for any person involved in arts or involved in any creative business, getting to know other places and other cultures is a very important thing.
KH: Of all of your awards, what do you think has been your greatest achievement?
JG: I don't think awards mean that much. Those, of course, are good to have … [but] I don't simply work toward getting awards. Awards certainly open doors and create opportunities for music to be widely accepted and to be more widely preformed … so I guess the Guggenheim is the most important award.
KH: Regarding the Guggenheim Fellowship, what do you plan to accomplish?
JG: The Guggenheim Fellowship is of course a cash reward, and it also entails the completion of a project I presented when I applied for the fellowship. … I will be writing an ensemble piece for five players, and there's a small work for two performers. I believe there's another large chamber [piece] also involved with the project, so I'll be dedicating myself to completing these three works.
KH: What brought you to Ithaca College?
JG: The music school is really remarkable, and the quality of the students is quite good. I have been here only a couple of weeks, but I have gotten a taste of what a great place this is. I'm joining a very distinguished group of colleagues who are really active in their fields, and they seem to have a very strong passion for teaching.