A team of Ithaca College students has won a mock stock portfolio management competition, according to an Intercom release penned by Paul Deamer, marketing communications manager in the Office of Marketing Communications.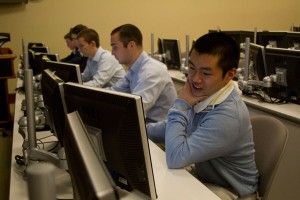 The Adirondack Cup competition, which began Oct. 1 and ran through April 5, is an initiative sponsored by Adirondack Research and Management, Inc., adviser to the Adirondack Small Cap Mutual Fund, according to the release. As part of the competition, undergraduate and graduate students from 18 colleges and universities in New York State and New England created a $1 million portfolio.
According to an Adirondack Funds press release, the team's investment in Citizens Bank, a small Michigan-based bank, propelled the students past its competitors. The college's team enjoyed a 36.3 return on its investments throughout the competition, beating second-place finisher Hofstra University's 33.8 percent return.
The college's was compiled of senior and team leader Michael Severo, senior Aaron Heltsley, senior Alex Gifford, junior Alex Pelzar, senior Alyssa Ross, senior Jared Finke, junior Jesse Held, sophomore Qingqing Jiang, junior Spencer Grossman and sophomore Will Shuttleworth, according to the Intercom release.
Check back later for more updates.