The Park Center for Independent Media held its fourth annual Izzy Awards last night in Emerson Suites, honoring Sharif Abdel Kouddous of "Democracy Now!" and the Center for Media and Democracyfor embodying excellence in independent media.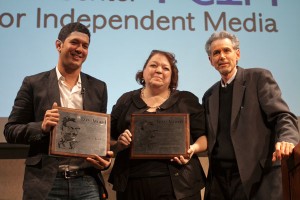 Named in honor of the late I.F. "Izzy" Stone, a legendary American investigative journalist, the award is given to celebrate achievement in independent media. Stone's independent newsletter, I.F. Stone's Weekly, published from 1953 to 1971, fought against McCarthyism, racism and government corruption.
Jeff Cohen, director of the Park Center for Independent Media and associate professor of journalism, said the quality of independent media coverage over the last year has been outstanding.
"Last year was an amazing, tumultuous, often inspiring year … and again independent media institutions completely distinguished themselves," Cohen said. "They were often the first on the scene, and in many cases, they offered the most in-depth analysis."
Kouddous was recognized for his reporting in Cairo during the Egyptian revolution. Kouddous, who lived in Egypt from the age of four to 18, has spent more than a year in Egypt reporting firsthand on the violence and chaos of the uprising amid the Arab Spring revolutions.
Kouddous said while the revolution was one of the most important stories in the United States since the Iraqi invasion, he found fundamental differences between how the corporate, or mainstream, media and independent media covered it. Kouddous's work is recognized for placing the mic in front of the protesters — not the commentators in a studio miles away.
"What you got on a lot of the corporate networks was indicative of the way they normally covered stories, which was a birds-eye view of Tahrir Square — people looking like ants and a pundit explaining what was happening, explaining what people wanted and usually explaining why this mattered to U.S. foreign policy," Kouddous said.
Amy Goodman, host and executive producer of "Democracy Now!" and former Izzy Award recipient, attended the ceremony to discuss Kouddous's work and said Kouddous has a passion and dedication for his reporting.
"His vivid descriptions and passion for what he saw really shaped how so many saw this incipient revolution." Goodman said. "A great writer, a greater journalist, a great producer, a great broadcaster, Sharif has decided to commit his life to bringing out the voices of people you wouldn't usually hear."
CMD received recognition for its investigative piece, "ALEC Exposed," which examines the American Legislative Exchange Council, a nonprofit conservative policy organization that often supports pro-corporate legislation in state and federal legislatures. The investigation exposed hundreds of "model bills" developed in secret by legislators and corporate lobbyists without consulting the populace.
Accepting the award on the Center's behalf was Lisa Graves, CMD's executive director and editor in chief, who said the story illustrated the importance of independent media, as the mainstream media overlooked the ALEC story.
"It is tremendously important to have support for independent media … because you know you're not getting the whole story or many facts from mainstream media," she said. "This story about ALEC has been in some ways hard to tell because a lot of the journalists who cover government have become inured to the normalization of corruption. It's so normalized in some ways that they don't even bother to cover it."
Past Izzy Award recipients include Glenn Greenwald, a blogger for Salon.com; Goodman; Jeremy Scahill, author of "Blackwater: The Rise of the World's Most Powerful Mercenary Army"; Robert Scheer, co-founder of Truthdig.com; and City Limits, an investigative magazine that covers New York City.