For some students, scholarships such as the Student Leadership Scholarship make the cost of college more manageable. For others, like sophomore Katherine Ulicky, it makes all the difference in deciding where to go to school.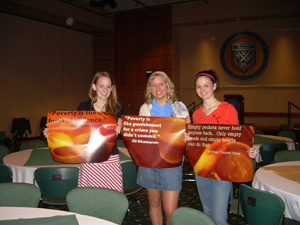 "Had I not received enough financial aid from Ithaca [College], I wouldn't be able to afford to come here," Ulicky said. "[Getting the Student Leadership Scholarship] came down to one of the deciding factors. It was a great opportunity."
The Leadership Scholar program will make it possible for more students to receive financial aid with the decision to double the number of students it accepts into its program next year, according to Kelly Stevens, associate director of the Center for Student Leadership and Involvement.
Larry Metzger, dean of admissions, said the scholarship was offered to 100 applicants with the expectation that around 60 will accept, twice as many as the 30 scholars enrolled in the class of 2010. He said if more than 60 accepted the scholarship, which awards $7,000 annually, the process will be re-evaluated and not all the scholars will be offered the money for their remaining years at the college.
The Student Leadership Scholarship, founded in 1997, is awarded to high school seniors who demonstrate leadership skills, are in the top 30 percent of their class and received an SAT score of more than 1100.
Metzger said the budget for college-supported scholarships is reconstructed each year. This year, the award package budget allowed for more Leadership Scholarships, Metzger said.
Gerard Turbide, director of admissions, said Leadership Scholars are expected to keep their GPA's above 2.75 and participate in community service programs.
"Anything that is helpful to us to help enroll the best, the most talented, the most qualified students at Ithaca College benefits the overall environment," Turbide said.
Each year the Leadership Scholars complete a project focusing on a social issue. This year's program is centered on global poverty, with groups of scholars reviewing individual related issues, such as hunger.
"For the scholars, it's really asking them to look beyond a financial payment or even something that's really tangible for them," Stevens said. "It's really the sense of being able to give back to someone else that comes very naturally to them."
Starting with the 2008 graduating class, Leadership Scholars will be required to compile an electronic portfolio of their leadership work at the college. In a new mentoring program, incoming Leadership Scholars will be put in touch with current scholars who volunteer for the mentoring program. The mentors, like Ulicky who signed up for the program, will contact incoming students to give them advice.
"I kind of wished I would have had someone as a friend and a mentor to check in with me a couple of times before the summer was over, just to make sure, to have that extra boost," she said.
Stevens said she is glad the scholarship helped encourage students to come to the college.
"We get some really amazing students who get to come to Ithaca College," Stevens said. "We have some really unique people and we're really pleased to have them come to Ithaca College rather than go somewhere else."