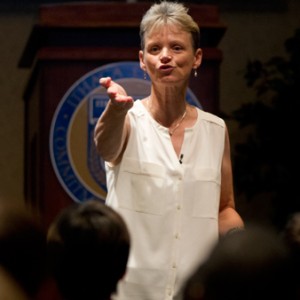 Maura Cullen, a well-known diversity training and coaching professional and author, returned as this year's First-Year Experience diversity speaker Tuesday night in Emerson Suites. Cullen covered topics including race, socioeconomic class, ability, gender and sexual orientation.
The event is held at the beginning of the fall semester every year in order to help students with the concept of diversity. Cullen holds a doctorate in social justice and diversity education and authored "35 Dumb Things Well-Intended People Say: Surprising Things We Say That Widen The Diversity Gap." She has presented on diversity issues since 1987.
Cullen said there are challenges freshmen face making friends and adjusting to college. She said each individual has the power to choose how they act and explained how it is most beneficial to act positively.
"Get into the habit of creating attitudes of gratitude," Cullen said.
Cullen worked to get her point across through interactive exercises and techniques during her presentation, such as a slideshow and a few magic tricks.
To begin the presentation, Cullen put an image on a screen and asked the audience to shout out what they saw. The audience members had varying opinions. Some members believed the image resembled a duck, while others saw a rabbit. Cullen related this to the first judgments we make of people.
Throughout the presentation, Cullen discussed the power we have over others and stressed the fact that ordinary acts of kindness can make people appear or disappear.
"You can make other people feel like they matter," Cullen said.
Freshman Carrine Putnam said the presentation was useful because it reiterated how important it is to accept others.
"It was different than other presentations I've heard before, and it was more powerful," Putnam said. "It just sort of hit home, like facts that you keep hearing about. The story just brought it around and made it more important to me."
Cullen related common human stereotypes to different kinds of cars, which freshman Lisa Famularo said made an impact on her.
"I liked how she compared all the topics to cars, which is something we deal with every day," Famularo said. "The fact that she made that comparison made me realize that we make the same judgments everyday without realizing it."