Ithaca is joining the national trend toward support of marijuana legalization following an announcement of support from Mayor Svante Myrick last week.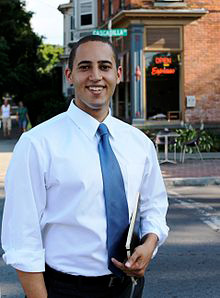 Myrick published a commentary for the Times Union, an Albany-area newspaper, on Dec. 3, calling on state lawmakers to permit medical marijuana and consider complete legalization. The mayor of Binghamton, Matt Ryan, announced support of legalization in November.
The commentary included reference to medical marijuana being legalized in other states — 18 in total and the District of Columbia. Myrick said part of his decision to support legalization comes from the need for marijuana for medicinal purposes.
"I know a lot of Ithacans of all ages who rely on marijuana use for medical symptoms, and they feel guilty about feeding the black market to buy the stuff," he said.
Ronald Brogan, the northeast director for D.A.R.E. America, said the educational program will not change its programs about marijuana even with political support for legalization.
"We are certainly against legalization," Brogan said. "And the Attorney General has indicated they will continue to enforce the laws no matter what your mayors might say."
An element of the movement toward legalization is equalization of marijuana and alcohol punishment, a policy that Ithaca College recently enacted after the Students for Sensible Drug Policy chapter at the college pushed for it. Senior Evan Nison, president of SSDP and an intern for Myrick, said the new policy has been effective.
"From what we're hearing from administrators, they're happy with it, they think it's effective, and it's doing what it's supposed to do," Nison said.
SSDP has also established the Marijuana Enforcement Task Force, which includes representatives from SSDP and other administrative organizations like Residential Life and Public Safety. The task force works to develop potential policies for the college and is currently working on an initiative to allow RAs to do write-ups for marijuana, just as they do for alcohol.
Myrick said the punishment for marijuana, especially for youth, can be harmful.
"[I] know a lot of young people who see their reputations stained sometimes for a lifetime," Myrick said.
A Gallup poll released Tuesday found Americans are split overall on whether marijuana use should be completely legalized, with 48 percent in favor of legalization. This is a significant increase in support, because the same poll in 2006 showed 36 percent of Americans approve of legalization.
Nison credits this shift in public opinion with youth leadership.
"The fact that younger politicians are stepping up and supporting marijuana legalization is just more proof that marijuana legalization is coming and is coming soon," Nison said.