Greg Woodward, dean of the music school, will become Carthage College's new president this summer, Ithaca College announced today.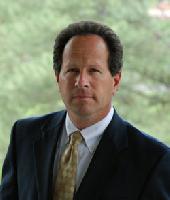 President Tom Rochon said the college is not only losing a wonderful leader in the School of Music, but also a colleague in the planning of IC 20/20, the college's strategic vision for the school.
"It's always bittersweet when a talented leader leaves the college for another opportunity," Rochon said. "It's especially bittersweet here because we worked so closely together last year when he was interim provost, but this is an opportunity he deserves, and I don't know if I ever met anyone as ready to be a successful president as he is."
Brad Andrews, senior vice president for academic resources at Carthage College, said a search for a new president has been underway since early autumn and more than 60 candidates applied for the position. Andrews said Woodward's background and experience at Ithaca College made him stand out in the application process.
"Greg has tireless energy," he said. "He's full of great ideas, and he has a personality and a style of engagement that really is a great fit for this college. Carthage has been growing in quality and reputation for a number of years, and as a college, we're poised to really take off and somebody with the energy and enthusiasm and vision that Greg Woodward has is absolutely a perfect fit for this college."
Woodward has assumed multiple leadership roles in his time at Ithaca College. He has served as dean of graduate and professional studies and in 2010-11 as interim provost and vice president for academic affairs. Woodward joined the Department of Music Theory, History and Composition as a composer in 1984 and has been a professor since 2000.
"He is a scholar of the first rank, a student of higher education best practices and an inspiring executive," Debra Waller, chairman of Carthage's Board of Trustees, said in a press release. "He brings a contagious enthusiasm for dreaming big dreams and has demonstrated the ability to transform these dreams into reality. We are ecstatic that he has agreed to lead Carthage."
Woodward marks the third dean from the college who has gone on to a college presidency since 2009. Dianne Lynch, dean of the Roy H. Park School of Communications, left to become president of Stephens College, and Susan West Engelkemeyer, dean of the School of Business, was named president of Nichols College.
Rochon said he will miss Woodward personally but is happy he has the chance to advance in his career.
"He's been a wonderful friend and colleague, but again that's tempered with an absolute joy that he's being given an opportunity to use his talent at Carthage College," Rochon said.
Marisa Kelly, provost and vice president for academic affairs, will identify an interim dean to lead the School of Music next year while a search for a new dean takes place.

Check back later for more updates.