When Ithaca College sophomore Coretta Jarteh smoked "legal pot," she felt nothing. But when a 14-year-old from Missouri did the same thing, he hallucinated and almost jumped from a fifth story window.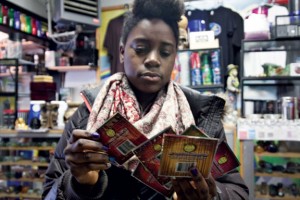 Five chemicals used to make synthetic marijuana were banned Tuesday. The United States Drug Enforcement Administration used its emergency scheduling authority to make JWH-018, JWH-073, JWH-200, CP-47497 and cannabicyclohexanol, as well as the substances that contain them, illegal to possess and sell.
Effective for at least one year, the temporary scheduling action will allow the DEA and the Department of Health and Human Services to study the chemicals and decide if they should be permanently controlled.
K2, a brand of synthetic marijuana legally sold as "incense" in the United States, mimics the effects of its illegal counterpart when smoked.
Jarteh said she initially tried K2 because she thought it was a safe alternative to marijuana and wouldn't have smoked it if she knew what it was made of.
"I didn't learn until recently that it was actually an incense, and I didn't know it was processed in chemicals."
K2 is made with JWH compounds because it affects the cannabinoid receptor in the brain, thus producing similar affects as THC, the psychoactive substance found in cannabis.
Dr. Anthony Scalzo, director of the Missouri Regional Poison Control Center and professor of toxicology at St. Louis University, said JWH can over-stimulate brain receptors. Because it is more intense than THC, it produces different effects depending on how individual bodies react to it.
"These compounds are probably at least 10 times more potent as a receptor than THC," he said. "The JWH compounds were never intended to be drugs themselves."
While some people experience little or mild symptoms while on K2, Scalzo said he has seen patients experience much worse effects, including hallucinations, paranoia, elevated blood pressure and anxiety.
News reports of K2 trips-gone-bad surfaced last year, and the DEA announced in November 2010 its intent to ban it. Scalzo said the 14-year-old whose friends prevented him from jumping out of a window was one of his first cases involving the substance.
Eddie Meyersburg, sales associate at Exscape smoke shop on The Commons, said the store carried K2 at the time, but stopped selling it once they heard many people were experiencing negative effects after smoking it.
Currently, the store sells "Spike Silver," an "herbal blend." The package holds 1 gram of "traditional herbs enhanced with aromatic properties" and sells for $14.99. The package states that the product does not contain the five chemicals banned Tuesday.
Many other products like Spike without the banned chemicals are popping up in K2's place. Though their packaging says not to ignite or burn, Meyersburg said the price and where the product is sold implies the use for smoking.
"It does say on the packaging that it's not meant for human consumption, but that's kind of the loophole," he said. "When [the DEA] said, 'You can't have these in your products anymore,' [companies] formulated a product without them, and we're still able to sell it."
Ithaca Hemp Company, another shop on The Commons, sells "Endonesia," also an "herbal blend" that does not contain the chemicals temporarily banned by the DEA.
Prior to Tuesday, some headshops such as 3-D Light and Jabberwock were selling Mr. Nice Guy — a product made with some of the banned chemicals.
Before the FDA action, New York State Senator John Flanagan sponsored a bill to ban the sale of K2 in New York. More recently, he sponsored a bill to ban the sale of salvia divinorim, which is illegal to sell in most parts of the world but is legal in most of the U.S.
As of January, both of Flanagan's bills have been referred to other committees within the New York State Assembly for consideration, and there are no votes for either bill in the current legislative session.
Sophomore Margaret Hinsvark said she has smoked many different brands of synthetic marijuana, including K2, about 30 times in the past three years. She said she'd smoke it when friends offered, though she doesn't think it's more convenient or better than using marijuana.
"It doesn't give you a better high," she said. "It's just the fact that it's legal that makes it kind of appealing, but it generally tends to taste really bad, and it gives me headaches."
Scalzo said another drug similar to K2 that has been gaining more attention fairly recently is "bath salts," a seemingly harmless product often marketed as "energizing aromatherapy powder." The product is a legal compound whose key ingredient, MDPV, a psychoactive drug, mimics a high from cocaine or meth, and users typically snort it.
According to the American Association of Poison Control Centers, there were no reported cases of bath salt exposure in the U.S. in 2009, and 248 cases have been reported for 2011. As of Feb. 10, poison centers have reported 457 calls for problems with K2 for 2011.
Scalzo said one 22-year-old patient who has developed an addiction to K2 smokes three to four three-gram packets a day and went in search of another high that led to a six-day binge on bath salts.
"He was banging holes in the walls of his home, thinking someone was in the walls listening to him," he said. "He was so addicted to the compounds that he remembers getting on his hands and knees and sniffing white powder off the carpet."
Junior Evan Nison, president of Students for a Sensible Drug Policy at Ithaca College, is an activist for the legalization of marijuana. He said manufacturers will continue to make synthetic marijuana as long as there is a market for it.
"Besides the possibility of psychological addiction, one of the most dangerous things about marijuana is getting caught with it," he said. "So in that sense, [synthetic drugs] could be a safe alternative."
While K2 and bath salts are man-made drugs, salvia divinorum is a plant. Brooke Hansen, associate professor of anthropology whose research focuses on integrative medicine, said salvia and similar plants with psychoactive effects like datura and kava are used for medicinal purposes in the Pacific and parts of Mexico.
Hansen said a ban on the sale of salvia would be ineffective at addressing the issue behind why young people are smoking it. She said the trend is about youth culture seeking a particular type of meaning or experience, and does not consider the use of salvia to be in the same dangerous category as synthetic drugs.
"Salvia is just one plant," she said. "You can do five minutes of research and find 50 more with similar properties. Maybe the issue isn't, 'Let's ban everything.' Maybe the issue is, 'Why are people seeking these kinds of experiences?'"