While the number of international students enrolling in U.S. colleges and universities is increasing nationwide, growth in international enrollment at Ithaca College is at a relative standstill.
In total, about 586,000 foreign students studied in the U.S. last year, an increase from 568,000 the previous year, according to visa figures from the U.S. Immigration and Customs Enforcement's Student and Exchange Visitor Information System.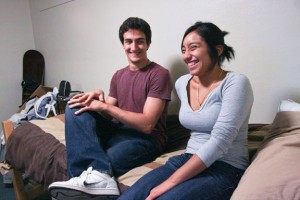 But over the past four years, the undergraduate international population at the college has shifted from a high of 156 students in the fall of 2006 to a low of 111 in the fall of 2009. Since 2007 the number of international students enrolled at the college has hovered around 2 percent, according to the college's enrollment reports.
This academic year, 121 international students made up about 2 percent of the undergraduate student population and represent 55 different countries.
The college is responding to the lagging enrollment levels of international students by placing more emphasis on attracting foreign students, Eric Maguire, vice president of enrollment management, said.
Maguire said the college is aiming to increase its visits to countries like China and India, the two largest exports of foreign students, according to a Chronicle of Higher Education report.
Currently, the college sends admissions officers about once every two years, Maguire said.
"There are enhanced efforts in recruitment already underway," Maguire said. "It's an expanded recruitment philosophy that we control internally."
The primary reason for the increase in international students  studying in the U.S. is the stronger global prestige of American schools as compared to foreign ones. The U.S. has become the most popular destination for international students, according to the Chronicle.
Junior Romi Ezzo, a health sciences major from Kuwait, said studying in America is a common trend in his country. He said the majority of his peers decided to study away from home, in the U.S.
"The U.S. is probably the one big place that a student would go to if they weren't studying [in their home country]," he said.
Deep Desai, a freshman exploratory major from India, discovered the college while searching for programs online. He said the flexibility of the degree programs attracted him to the college.
"The exploratory program really appealed to me because it gives me a chance to actually get a feel of what's happening before declaring a major," he said.
Like Ezzo, Desai said he knows many people from his country studying in the U.S., especially in large cities like Boston and New York. The less metropolitan Ithaca, however, is not in as high demand in other parts of the world, Desai said.
"There is not as much awareness about Ithaca College, at least where I'm from," he said.
But Desai said he was pleased with the way the college reached out to him as a foreign student planning on studying in a new country.
"The whole process was surprisingly streamlined and the Office of International Programs was very approachable," he said.
Ezzo said he was drawn to the college after his counselor recommended it to him after conducting research on American schools. Ezzo said he was impressed by the campus feel, community dynamic and location.
The Office of International Programs stays in touch with incoming foreign students before the year starts as well as during their transition to the U.S., Diana Dimitrova, director of International Student Services, said.
"We work with incoming students for weeks and months before they arrive," she said. "When students arrive, our office puts together a three-day orientation program in August which precedes the fall welcome, so our [international] students normally get to campus 10 days before anyone else."
In addition to offering academic and financial assistance, the Office of International Student Services works to keep foreign students active around campus and in the community.
"We try to socialize and have fun and teach [the students] about their new home, how to use a bus, what's where," Dimitrova said. "We support them as best we can. We work closely with the International Club, and we do a big festival at the end of October with an international dinner and the One World Concert."
Another feature of the college's international program is Discover Ithaca, a program in which the students are broken up into small groups so meaningful interaction can happen. International students explore the college's natural lands area, learn how to get to Cornell University and visit the Johnson Museum of Art.
Dimitrova said these and other efforts are what help international students acclimate themselves to a new city and a new country.
"We try to expose students to things they may overlook," she said. "They are new to the campus, but we make sure to introduce them to things that are just around the corner."