Hordes of anxious high school and college students crowded into Cornell's Barton Hall last night for an evening with the synthpop band Passion Pit. The Cambridge, Mass., collective just came off a stop at the Fun Fun Fun Fest in Austin Friday night before zipping up to Ithaca.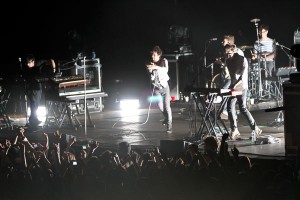 Just one week ago, the Cornell Concert Commission announced that Brooklyn indie rockers We Barbarians would open. A modest gathering of fans showed up early to catch the group's blistering alternative rock.
Lead singer David Quon seemed to be having the time of his life as he led the band through a set list packed with ferocious guitar-based songs. Quon and bassist Derek VanHeule took turns playfully head butting each other during the set. They remained unfazed by the less than enthused crowd below.
When Passion Pit took the stage, it was welcomed by a resounding chorus of cheers. The band wasted no time and launched right into the glorious anthem "Moth's Wings" off its latest album, "Manners." The audience shrieked with approval as lead singer Michael Angelakos's ranging falsetto blared from the speakers.
Throughout the show, Angelakos sought to bring the crowd to even higher levels of excitement. He frequently mounted the speakers in front of the stage to get closer to fans. When he wasn't getting up close and personal, he was hopping around the stage and swinging his microphone as if it were a yo-yo.
Passion Pit also tested out some new material from its yet-to-be-named album that is tentatively scheduled for release this spring. One such song was "American Blood," which remains rooted to the band's current style — synthetic and upbeat — but Angelakos abandons his falsetto for a lower octave. The second song, which remained untitled, had the whole place hopping with Angelakos asking, "This is 5,000 people jumping — how does it feel?"
The group returned for a three-song encore that was capped with "Little Secrets." The band poured every last ounce of energy into the closing number. The audience danced below them singing along, "higher and higher," until the band left the stage triumphant.