Kati Lustyik, an assistant professor of media arts, sciences and studies at Ithaca College, contributed to editing a collection of essays about the transformation of popular television in Eastern Europe. The book was also edited by Anikó Imre, associate professor and director of graduate studies at the University of Southern California, and Timothy Havens, associate professor of international television, critical theory and cultural studies at the University of Iowa.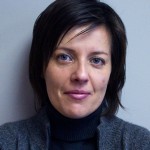 The book, "Popular Television in Eastern Europe During and Since Socialism," was published Aug. 24 and examines the transition from a state-based programming system to a more Westernized type of broadcasting in Eastern Europe.
Contributing Writer Justin Barwick spoke with Lustyik to discuss her experiences in New Zealand and discuss the details of the book.
Justin Barwick: What were some of the experiences you had while on your postdoctoral fellowship in New Zealand?
Kati Lustyik: While still in graduate school I was going to attend a conference in Australia but had to stop in Auckland. I thought to myself, "I really want to come back here." I started to look for jobs in New Zealand, which is really how this postdoctoral fellowship came about. I learned a lot about the culture of New Zealand and Australia. I studied Nickelodeon and the animation process of New Zealand while there. I also worked with a lot of scholars from the region, which helped influence the way I teach some of my classes today.
JB: Is the programming on television in New Zealand different than what is shown in the U.S.?
KL: Unfortunately, it is very similar to what is shown in the United States. You can watch, for instance, Nickelodeon 24 hours per day. They have the Disney Channel as well. I was looking more specifically at children's media than others … It is very flavorful as far as South Pacific Island influence, because Auckland is the largest South Pacific city. In a way it is very diverse, and in another way it is very Americanized.
JB: You worked with a show known as "bro'Town", can you tell us a little bit about that?
KL: "bro'Town" is a little bit like "South Park."  It has South Pacific teenagers as main characters. It became a really popular show within a short amount of time. We researched where the show came about, where the funding came from and how much content it used from "South Park" or how much "South Park" served as a main source for their production. It was a fascinating show, and I highly recommend it to everyone.
JB: What sparked your interest in this topic?
KL: I am Hungarian and I grew up in
Hungary. This book is based on my growing up in Hungary, being educated in Hungary and working with scholars who have similar interests in the region. We thought that there was nothing written about television during the Communist era or since then, so we worked with countless numbers of scholars for this book. We are very excited to have a book that focuses not on political issues per se, but more like popular television.
JB: Why do you believe it is important for students to learn about this topic?
KL: I think it is a really good way for students and readers alike to get a better understanding of what kind of popular television programs were offered during that era. Also, it shows how that has changed with the programming today.