The Office of Public Safety is investigating the vandalism of the George C. Textor portrait in Ithaca College's Textor Hall.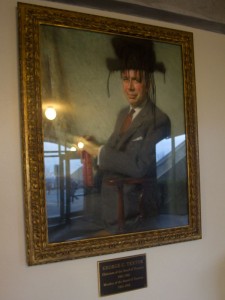 Tom Dunn, an investigator with Public Safety, said an unknown person used spray paint to darken the area above the head in the shape of a top hat, and the spray paint has since dripped down onto lower parts of the painting.
Dunn said the vandalism was reported at 11:55 p.m. Friday, but there's no specific time frame for when the incident may have occurred. He said the investigation is open and ongoing.
Textor served as chairman of the college's Board of Trustees from 1965 to 1968 and was a member of the Board from 1955 to 1968.
On Oct. 14, a portrait of the college's second president, George C. Williams, was stolen, but it was later recovered near the Circles Community Building on Nov. 10. The portrait, which hung on the first floor of Williams Hall, was valued at almost $7,000.
Dunn said Public Safety has not found a direct correlation between the two portrait crimes, but the Office has also not ruled out a possible connection.
"The M.O. is different — stealing something and spray painting something," Dunn said. "But still, they are both presidential portraits, so we're considering that."
Anyone with information relevant to the investigation is urged to contact the Office of Public Safety at (607)-274-3333.