The Constructionists, this year's executive board of the Student Government Association, began the semester by spearheading several new initiatives, including a charity program, shuttle proposal and a newly institutionalized Spirit Week.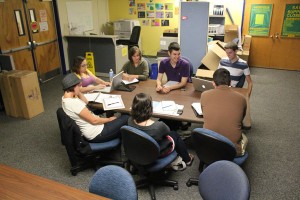 Senior Scott Nachlis, SGA president, said the organization's goals this year include finishing the shuttle proposal, which was first drafted two years ago to provide transportation for students from campus to the Circle Apartments and to the Commons. He said SGA must find the best possible service option for the students.
"It's not about raising tuition because that is not what we want to do," he said. "It's just finding the best way in working with either a private company or the TCAT system on what would be the best way to benefit the students."
Junior Rob Flaherty, SGA vice president of communication, said this year SGA aims to continue its outreach to the student body in hopes of increasing participation in the different committees within SGA. The goal is to increase student input in college administration decisions.
"There are a lot of decisions that get made by administration that don't really factor the students' voice in," he said. "One of the big things SGA is trying to do is get more students in the campus life committees and increase our ability to act as the voice of the student body."
Flaherty said SGA plans to increase student participation by being more available to students. Senators will be required to work office hours so anyone can come to the SGA office on the third floor of Campus Center and express concerns at any time. Also, SGA will hold more meetings at IC Square, an idea formed by last year's executive board.
Nachlis said SGA will also collaborate more with the Residence Hall Association. He said there were many times last year when both organizations worked separately toward the same goal, and this year it made sense to work under one identity to fulfill their objectives.
"We are both two large organizations on this campus that have the ability to affect a large majority of students," he said. "They'll come to our meetings and see how the two organizations can better work together."
SGA, in collaboration with the Office of Alumni Relations, will also hold Spirit Week from Oct. 8 to 15, which will move events like Mr. and Miss Ithaca and the Habidash, the annual Habitat for Humanity 5k walk/run, to be a part of Spirit Week. Nachlis said the goal is to create traditions at the college that increase school spirit and collaboration across campus.
One initiative the executive board proposed in their campaign last spring was beginning a charity program. The project consists of selling apparel and merchandise to students on campus, and putting the proceeds toward funding grants for students in need, Nachlis said.
"The money raised would go directly to helping students cover their financial need," he said. "So it's also students helping students."
One of SGA's roles on campus is to provide funding for student clubs and organizations. In the past, the money allocation process has been a problematic issue. SGA funds have run out before the end of the spring in past years because the amount did not meet the needs of all organizations on campus.
Sophomore Robert Hohn, vice president of finance for SGA, said the funding shortage on campus is due in part to exponential growth in the number of organizations on campus. Hohn said his goals are to get more funding from the administration for the SGA budget, and to also help clubs be more independent in raising funds for their activities.
"If we run out of money, they will be able to fundraise again, and they will still be able to host their event," he said. "SGA is still going to be here when they need support, but we want to create that environment so that they are able to take initiative, and they are able to put on events by themselves if they need to."
Hohn said some ways he hopes to fix the deficit in the budget are by requesting all organizations hold at least one fundraiser per year, making the funding application process more efficient by switching to an online format and looking further into implementing a student activities fee in future years. The latter, he said, is still being researched and will not be enacted until surveys have been sent to the student body to gauge willingness and interest.
SGA will hold a rush night at 6 p.m. today in IC Square. The organization is looking for students to fill 13 spots in the senate.
Fall elections will be held from Sept. 15 to 16. This year SGA fashioned a new position, the vice president of senate affairs, which operates weekly senatorial meetings. Senior Samantha Lowe has stepped into the position this year. Last year, the position was filled by Nachlis and was called the senate chair.
Flaherty said his goal this year is to give SGA a bigger presence on campus.
"It's about making sure SGA is more visible on campus, more active with student life," he said. "Making sure that we are able to accurately and forcefully portray the student voice to the administration."