Students at Ithaca College are protesting against the social networking giant, Facebook, this week as part of a nationwide campaign launched by Greenpeace.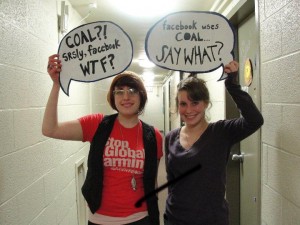 Eight student members of the Environmental Leadership Action Network, lead by senior Rena Ostry, have been walking around campus handing out information and handmade speech bubbles informing their peers about Facebook's use of coal as its source of power instead of readily available renewable energy sources at its new data center in Oregon.
In a comment on Greenpeace's website Barry Schnitt, director of policy communications for Facebook, rebutted Greenpeace's attack saying Facebook's management was pleased with the new data center in Oregon. Schnitt said Facebook is challenging the industry to meet the standards it is setting in energy efficiency.
Schnitt said in the comment that the power grid the new facility is on does use more coal than the national average, but said the location of the facility will help reduce its carbon emissions.
"It's true that the local utility for the region we chose, Pacific Power, has an energy mix that is weighted slightly more toward coal than the national average," Schnitt said in the comment. "However, the efficiency we are able to achieve because of the climate of the region minimizes our overall carbon footprint."
Ostry and ELAN continue to distribute information and slips of paper with instructions for students to call Facebook and deliver the message that Ithaca College wants the social network to use a cleaner source of energy.
"They have a little rap that students can read to Facebook answering machines that encourage Facebook to go green," Ostry said.
Ostry said the purpose of the speech bubbles is for students to take photographs with them and make these photographs their profile pictures. Ostry said this sends a visual message to Mark Zuckerberg, one of the creators of Facebook, saying the college wants to see a change.
Freshman Joni Fromer is a member of ELAN and said she believes people need to be informed about Facebook's unsustainable practice.
"We really want to spread awareness," Fromer said. "When we were talking to people about Facebook [utilizing] coal as an energy resource, no one seemed to know that."
Fromer said ELAN's goal is to work with Greenpeace and convince Facebook to find an alternative energy source by Earth Day, April 22.
Greenpeace is working with college campuses and other interest groups across the country but relies on college organizations to run its own protest efforts, Ostry said.
"Yesterday 50 people said they would call Facebook," Fromer said. "Another 30 said they would change their profile pictures."
Freshman Nick Jurczak got his picture taken by ELAN and said he agrees with the cause. He said he believes that if Facebook comes to rely on alternate energy it will set the precedent for other businesses to follow.
"It's a good action to take," Jurczak said. "If Facebook is relying on an energy source detrimental to the environment they set a poor example for other businesses with Facebook pages."