For Alex Colket, the inspiration to create the hyperlocal social media platform Swidjit was, quite fittingly, close to home. After developing an interest in sustainability and creating his own online meal-sharing program, Colket was driven to take community currency to the next level.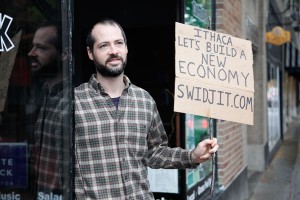 For the past 15 months, the developer has worked to create Swidjit, a social network that combines Facebook, Twitter, Craigslist, Meetup and Yelp into one super platform for the Ithaca community. Though a stripped-down version of the website is already online, Colket said a redesigned and more robust version of Swidjit is set to launch Tuesday.
Geared toward sharing and collaborating, Swidjit users can post "have-its" and "want-its" — items that they own or desire — to an online feed. Residents offer time, money or their own items in exchange for the goods. Users can also post local events, jobs, housing and their own opinions to the site.
It's a full-time job for Colket, who said he devotes around 75 hours each week to developing and promoting Swidjit. The site, he said, fills a void left by today's leading social networks.
"We truly lack this kind of nexus for local information and resources," he said. "If you want to keep in touch with the things going on around you, you have to pay attention to Facebook events, stay on listservs, do Google searches, go to Yelp to find information about businesses. … This is such a valuable thing — the resources and people in our day-to-day lives — and with all of the Internet tools that we have, I don't think it should be that hard to access them."
All of Swidjit's content is original and user-generated, Colket said. With the help of an IndieGoGo campaign, Colket hopes to raise $100,000 to fund further development, and he added promotional ads, premium services and transaction fees will financially support the site in the future.
At the local stage, Colket hopes to attract at least 35,000 adult Internet users in Tompkins County. But Colket says his creation won't stay local for long, and he already has plans to expand to other regions. The site will especially target emerging economies, Colket said, because these areas typically emphasize local buying and trading over commercial sales.