Ithaca College's board of trustees has approved a $1,838 tuition increase — the largest in the college's history.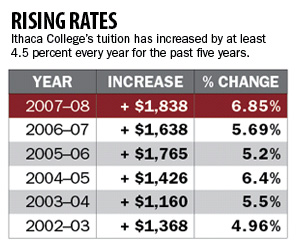 The undergraduate tuition for 2007–08 has been set at $28,670. This is a 6.85 percent increase, which is also the largest percentage increase in the last 15 years.
Fees for standard double room occupancy, board and health insurance increased $429 to $11,128, which brings the total cost of attendance in 2007–08 to $39,798.
This is a total increase of $2,267 or 6.04 percent from this year for on-campus students.
The board passed the increase at its February meeting in New York City last week. The college released the tuition information at the end of the business day yesterday, and the college's administration was unavailable to comment.
In a letter that will be sent to students' parents later this week announcing the rates, President Peggy R. Williams says the increase reflects the college's efforts to improve the quality of education while controlling expenses and cost increases.
"Making sure students have every opportunity to pursue their talents and interests, both within and outside of the classroom, is a challenge for any institution," she wrote. "Each year, Ithaca College administrators, together with the college's board of trustees, work to invest in quality improvements and balance the realities of escalating costs for items such as employee health benefits, utilities, insurance and technology upgrades and replacements."
Williams also says the tuition aims at not only improving academic programs, but also facilities, residential programs and student financial aid.
"We are currently involved in a $115 million capital campaign to fund several new initiatives, including new academic programs, a tremendous boost to scholarship aid, a new School of Business building, a new Athletics and Events Center, improved student housing and continued support of the Ithaca Fund," Williams wrote.
Williams wrote the actual cost of educating an Ithaca College student is about $6,000 more than current tuition.
Tuition for the current academic year was $26,832, a 5.69 percent or $1,638 increase from 2005–06.
The board also elected acting chair C. William Schwab '68 as chairman. The board forgot to hold elections in May, when the previous chair William Haines' term expired. Dave Maley, associate director of media relations, did not know as of last night whether Schwab's maximum five-year term as chair would be up in February or May of 2012.
Schwab was first elected to the board in 1989 and served for 10 years. He was then re-elected in 2001, and in 2004 he became vice chair. He has served as chair of the Executive Committee, Educational Policy Committee and Trusteeship Committee.
The board was updated on the campus master plan by representatives from HOLT Architects; on the fundraising campaign; and on the School of Business, Athletics and Events Center, and Gateway Building projects. Representatives from the Frederick Douglass Academy also commemorated the 10th anniversary of the partnership between Ithaca College and their public school in Harlem with the trustees.
Tenure and promotions for 16 faculty were also approved. One other faculty member was granted tenure, and Charles Spencer, a retired professor of physics, was named a professor emeritus.