In an effort to create college-wide integrated learning under the IC20/20 vision, Ithaca College is reconstructing the Division of Interdisciplinary and International Studies.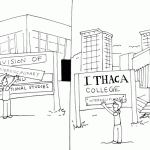 While DIIS will be dismantling, the academic programs, centers, institutes and projects in DIIS will not. Instead, they will move to the School of Humanities and Sciences, the Business School and the provost's office. Dismantling DIIS will not save the college money nor will it cost the college extra, according to Gregory Woodward, interim provost and vice president of academic affairs. The money that was used for DIIS will now be allocated to the programs in their new buildings, he said.
By reconstructing DIIS, the college is taking the necessary steps to make IC20/20 successful. As the smallest division, DIIS was often isolated compared to the other schools, and students did not have the same resources. Moving the programs to larger schools will give students more opportunities, resources and faculty to interact with than they had  in DIIS.
Students across campus will also benefit from the reconstruction of the programs. Faculty in DIIS will now move to new locations, bringing different perspectives and teaching methods with them. By accepting different programs into their schools, the Humanities and Sciences and Business schools will gain more recognition as well. Woodward and the team of leading faculty he worked with are applauded for taking one of the first successful steps toward the new vision.
The reconstruction will be a part of successfully enhancing students' learning and giving them the college-wide integrated learning that IC20/20 promises.