Writing professor Fred Wilcox gave a reading and talk Feb. 9 at Ithaca College from his book "Scorched Earth: Legacies of Chemical Warfare in Vietnam".
He shared information about how U.S. chemical corporations such as Monsanto and Dow and our government used Agent Orange (dioxin), a carcinogen, in Vietnam to poison 5 million acres of farmlands and forests and millions of people.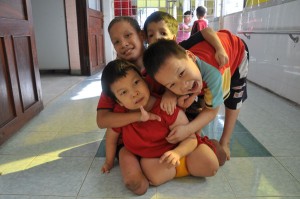 Thirty-seven years after the end of U.S. military engagement there, so much dioxin residue remains that some 500,000 children suffer from the effects of chemical warfare, a result of their own or their grandparents' and parents' exposure.
Also among those affected are tens of thousands of U.S. troops who served during the Vietnam War, or, as the Vietnamese call it, the "War of Resistance Against U.S. Invasion," about which Wilcox wrote in his book "Waiting for an Army to Die."
Many studies by Vietnamese, Canadian and European scientists show clear links between Agent Orange and illnesses and defects. The U.S. government refuses to fund such a study.
Wilcox challenged us to ask how could we allow contamination of a land and its people — as well as the current stream of toxic chemicals in our environment that lead to rampant rates of cancer and other environmental diseases worldwide. How could President Obama appoint a Monsanto executive to the Food and Drug Administration, which is supposed to protect us from dangerous chemicals?
Understandably, many audience members were shocked and upset. Several asked, "What can we do?" Time didn't permit detailed answers, so here are a few ideas.
Ditch your toxins. Many dastardly chemicals are in our food, air and water. Activities like fracking for "natural" gas are increasing the prevalence of contamination, which was already terrifying. One example: The cosmetics and fragrance industry is unregulated; there's no oversight of the chemicals used in thousands of products humans use daily.
Eat organic and locally grown food. In Ithaca, organic food prices have plummeted with increased demand, and that trend will continue as more people make the connections between chemicals and the rise in environmental cancers.
Take environmental studies and sciences classes and Introduction to Chemistry. Attend 4 p.m. Monday seminars in CNS 112 on fracking.
Read noncorporate media. Much of this information is rarely mentioned in mainstream media. Find suggestions at the Park Center for Independent Media website.
Join an organization devoted to a healthy environment. Campus groups include Ithaca College Environmental Society, IC FrackOff and Organic Growers of IC. Locally, Sustainable Tompkins has great information, projects and programs.
Keep educating yourself. Visit the study guide on environmental toxicology compiled by IC librarian Ron Gilmour and the guide on environmental justice compiled by Brian Saunders on the library's website.
Share what you learn with others. And, as Professor Wilcox urges, help the Vietnamese people. Learn more through the Vietnam Agent Orange Relief and Responsibility Campaign. Urge your U.S. representative to cosponsor H.R. 2634, which was introduced last summer. It would help victims and caregivers in Vietnam and the United States fund environmental remediation and public health research. It's the moral response to the question of "What can we do for the Vietnamese people?"
Maura Stephens is the associate director of the Park Center for Independent Media. Email her at mstephens@ithaca.edu.