If a person were to go on Google and search "are mental illnesses …", the first two suggestions are this: "are mental illnesses real" and "are mental illnesses contagious." Clearly many people are misinformed when it comes to the topic of mental illness. Yes, they are absolutely real and affect one in four American adults. No, it should be common sense to realize they cannot be spread like the flu. Mental Illness Awareness Week, Oct. 4–10, is a perfect time to address and fight this stigma, which is only still prevalent because uninformed people fail to identify mental illnesses for what they are: legitimate disorders of the brain that should be treated.
Some people incorrectly view depression as just being sad. People will claim they're depressed after having a single bad day, when the weather is gloomy, or as a result of something negative happening like a bad grade on an exam. Everyone has typical mood swings that are caused by emotions or situations that cannot nearly compare to the dark depths of depression. I sometimes like to think of depression as chemical warfare in your brain where a person is really sad when everything in his or her life seems to be going right. With a phenomenal support system — and when from an outside perspective my life looked like everything was going quite well — my depression consumed me and forced me to take a medical leave of absence this semester because I couldn't process or retain the school work.
I'm fighting a mental illness called bipolar I disorder. I was diagnosed when I was a freshman in high school. Bipolar I disorder is characterized by two mood episodes. During a manic episode, my mood becomes escalated and my entire perspective changes. I feel like I'm on the top of the world, I sleep much less, my thoughts race at a million miles a minute, and I have grandiose ideas. The other mood spectrum that I, along with others with bipolar I disorder, experience is the major depressive episode. During a major depressive episode, the world seems to change from color to black-and-white. I feel sad and empty, I lose interest and pleasure, my energy is gone, I can't concentrate, I feel vulnerable, I think I'm worthless, and sometimes I feel like I want to die. However, for the majority of my experience with this illness I've had a "normal" mood, just like everyone else with typical highs and lows.
I don't let my illness define me, but my recent bouts with depression have had a big impact on my life. I have been in a depressive episode for four months.
I believe it's beneficial to be able to express yourself. Unfortunately, people think they should only share their highlight reels on social media. I think people don't realize that the most meaningful connections are made when you're vulnerable. As someone who wants to be a mental health advocate, I chose to post an update on Facebook with some of my recent struggles so that people could find comfort that they are not alone with their mental health challenges, that there is hope and that it's OK to be open and honest.
Here are two excerpts from the post:
"It feels like the entire world has changed from color to black and white. I struggle to just go through the motions, force a fake smile, and even to get out of bed in the morning. The depression has given me a constant migraine and simple tasks prove to be challenging."
"I believe there is a purpose to my pain. I intend to use my suffering to help others who suffer in similar ways. I accept that the best attitude is to make the most out of every possible moment, for not every moment is possible to enjoy."
The support from the post was overwhelmingly positive. I went on to take the black-and-white concept to my Snapchat stories as another way to express what depression feels like. For this photo project I tried to use captions that accurately reflected my thoughts with artistic images so that people might have a better understanding of depression and how challenging it can be.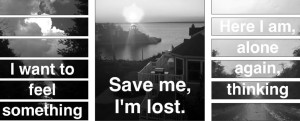 For Mental Illness Awareness Week, I started a student-run campaign called Listen. Learn. Accept. that speaks up for mental illness. Our main focus is to promote acceptance for mood disorders through its Facebook, Twitter and Instagram accounts. My hope is that this movement will gather a following and people in the Ithaca College community will post a black-and-white photo of themselves to social media between Oct. 4 and 10 with this caption:
"Depression makes the world seem like it's black and white. #LLA"
If people are interested in volunteering for the LLA campaign, they can email listenlearnaccept@gmail.com. Help fight stigma for mental illness and depression by being vocal!
Chris Biehn is a sophomore journalism major. Email him at cbiehn1@ithaca.edu.