In a showing of fanhood that has seldom been rivaled, there is one supporter of the women's lacrosse team that has not missed a game in four years. He sits silently, patiently observing his favorite team in action, until the end of the game when it is then decided which member of the team he gets to hang out with for a whole week.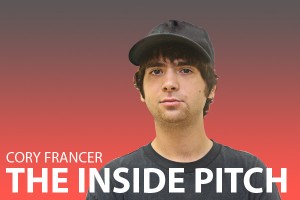 Not a bad deal, right? We'd all love to get to spend some time with our favorite players of our favorite team, but there is something that separates this fan from the rest of us.
This unnamed Bombers' supporter is a cactus. He's a stuffed cactus, at that, and is awarded to a different player after each game the Blue and Gold play.
"It's a way to as a team [recognize] who we thought was the best motivator and did their best on the field," junior midfielder Katie Hurley said. "Whoever has the cactus gives it to someone else, and then it is their responsibility to take a funny picture with the cactus."
The cactus tradition started in 2006 when a group of seniors removed a similar cactus that one of the lacrosse coaches had on the antenna of her car and took pictures of the cactus as a hostage.
"After that, the senior class went on eBay and found this really awkward-looking, stuffed cactus, and they bought it," senior attack Kylie McClure said. "Ever since then we've been passing it around our team to players who have been standing out."
After four years of traveling around with the team, there are photos of the cactus Jet Skiing and vacationing in Florida.
"One of the best pictures I've seen is when someone took a picture with it in the cockpit of our spring break flight with the pilot," McClure said.
Hurley said being awarded the cactus is one of the biggest honors a member of the team can receive. It is never presented to a player for posting the most impressive statistics, but instead is handed to the player who contributed the most to the team through leadership and strong effort.
The one player who has shown that type of performance necessary to maintain her hold on the cactus is senior captain Courtney Dowell. Hurley said Dowell must have won it at least 27 times since she's been at Ithaca. Dowell said her tendency to hang onto the cactus comes from her position as a goaltender.
"If the team is doing well, you just happen to stand out," she said.
Hurley, however, has yet to receive the cactus, but she has big plans for when she finally does. The cactus will be traveling across town to East Hill for a night out.
"If I ever get it, I'm going to take it into a Cornell frat and take my picture with it that way," she said.