One in nine Americans is affected by kidney disease. "1 in 9," that's the message printed on senior Jon LaChance's orange rubber wristband.
For Jon, three generations of his family have been affected by polycystic kidney disease. The bracelet represents his goal to ultimately raise awareness for kidney disease in the Ithaca community — one step at a time.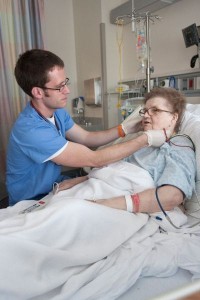 Jon, a health science major with a concentration in premed, along with classmate senior Kim Jacobson teamed up with the National Kidney Foundation of Northeast New York and the Cayuga Medical Center to create Ithaca's first five-kilometer run for kidney disease, which is scheduled for 10 a.m. Saturday at Cass Park.
When Jon works at the Cayuga Medical Center, assisting with bedside procedures, electrocardiography and blood work, he'll occasionally assist patients who are affected by kidney disease.
"I've wanted to do something with the National Kidney [Foundation] for a few years now but never had the time or the opportunity," Jon said. "I'm personally affected by the kidney foundation; my dad, my grandfather, my great-uncle, my great-grandmother, my great-grandfather all have polycystic kidney disease, or had it, so I may have it as well. I don't know."
Polycystic kidney disease is the most commonly inherited form of kidney disease and life-threatening genetic disorder in the U.S. The disease enlarges the kidneys because of the formation and growth of multiple cysts on the kidneys. Displacement of other organs, caused by the increased size of the kidneys, often causes pain in the back and/or sides. If a cyst ruptures, an individual may experience severe pain, as the body then naturally absorbs the fluids. The National Kidney Foundation estimates that about 67,000 people die of kidney failure every year — an important part of the message in Jon's attempt to raise awareness.
Collaborating with Rebecca Conklin from the National Kidney Foundation's Northeast affiliate in Albany, N.Y., who grew up in Ithaca and attended Dryden High School, Jon and Jacobson agreed a five-kilometer run or walk would help promote lifestyle choices that could potentially delay the progression of the disease.
"If [the National Kidney Foundation] can identify [kidney disease] early on, you can make those lifestyle changes," Conklin said. "Being healthy, exercising, the simple little things can really change the way your kidneys function, and you can increase your function level."
The National Kidney Foundation is a voluntary nonprofit organization that relies on donations and government grants for revenue, while reinvesting more than 81 cents of every dollar into programs and services supporting patients and their families. Jon's father, David LaChance, 53, is affected bilaterally from polycystic kidney disease. He is contributing as much as he can to the event and getting motivated to walk the course.
"My dad has never exercised," Jon said. "Let me tell you how excited he is. He got a gym membership three weeks ago. He started off walking about half a mile on the treadmill at two miles per hour … as of right now, he's walking three and a half miles. He's stoked. He's donating the water, the fruit, and he's just so excited about it."
Thirteen years ago, David fell and was taken to the hospital. Doctors found hundreds of cysts on each of his kidneys. Now more than a decade later, not having needed a transplant or dialysis, David is helping the cause as much as he can and said that Jon is the reason behind his lifestyle changes.
"[This event] means the world to me," David said. "Because, to be honest, my doctor wanted me to start walking three years ago, and I didn't want to have anything to do with it. Now I look forward to it. I'm walking every day, and after it's all done I'm going to keep doing it."
Not only does the event promote awareness for the disease, but it will also help educate people about the effects of the disease and that it can be caused by diabetes and high blood pressure.
"With a 5K race you're saying, 'Go out. Be physically active. Do this for a good cause.'" Jacobson said. "You're learning something; you're being educated, and it's helping others, which is the best part."
With trophies for the top three runners and the top walker, free pizza and several door prizes, the community's response and participation is driven by a combination of interest and support.
"I'd say that a 5K might be a little more appropriate for being related to health," junior Adam Iaizzi, Jon's roommate who will be participating in the event, said. "It helps to raise awareness with something like this. When people think, 'What am I going to donate to?' They usually don't think kidney disease."
While Jon and Jacobson will both receive credit for the event as part of their senior leadership project — with almost 60 participants already registered online as of March 29, and more than $4,000 raised from donations and registration fees —  Jon said he's focused more on the community's response.
"On April 10, Saturday morning before they leave, maybe they'll come up and be like, 'How can I help? What can I do for you? How can I contribute to this cause?'" Jon said. "We've already got some of that, and I have no complaints."