Though some of the 21 field athletes on the women's track and field team have a one- to two-week break following the indoor season, they must begin a taxing period of adjustment before competitions move outdoors.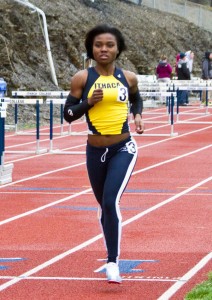 The spring season of track adds five field events to the Bombers' competition — the hammer throw, javelin, discus, steeplechase and heptathlon. The weight throw from the winter season is dropped from each contest.
Sophomore Elaine Abdulky said the 12-pound difference in mass between the heavier weight used in winter and the lighter hammer thrown in the spring affects her ability to control her movements while she's in the cage.
"When you're throwing the weight in winter, you have to go slower and use so much of your weight to counter the ball," she said. "But when you go outdoors it is a lot faster, so you have to use so much more body weight to counter it."
In addition to the throwing events in the outdoor season, the heptathlon replaces the pentathlon. The outdoor heptathlon includes the 200-meter run and javelin throw in addition to all of the pentathlon's events.
Senior multi-event competitor Emma Dewart, who participates in the pentathlon and heptathlon, said the increased distance in events requires more stamina from athletes in spring practices.
"We are now required to increase our endurance more than before," Dewart said. "And while we practice some of these skills before we get out to the spring season, it is still a change we need to adjust to."
Abdulky said the team's coaching staff knows the difficulties that go into the new spring events, and they use repetition effectively when preparing the team's field competitors.
"The last couple weeks of indoor practice, we actually start doing some outdoor technique indoors," Abdulky said. "The coaches are really good about understanding that it will not happen in a day, so they walk you through your technique over and over."
Senior Jessica Hoeffner said she has learned to train her mind to treat  each of the South Hill squad's invitationals the same whether they're indoors or outside.
"After the first spring meet, my body was absolutely drained from taking all my throws," Hoeffner said. "Over time I have taught myself to stay focused on the meet so that going from two events in the indoor season to all the events in the spring season is not as hard anymore."
While the mental and physical change does put a strain on the field athletes, Dewart said the indoor season is a huge factor in adjusting to the outdoor season and helping the team get in stride.
"Outdoor is the most important part of our season because that's where we want everything to come together," she said. "If we didn't have indoor to prepare us, it would be a completely different season."