Every so often, a pair of star players on the boys' lacrosse team at John Jay High School in Cross River, N.Y., dusted off an old play that could only be formed from a backyard bond.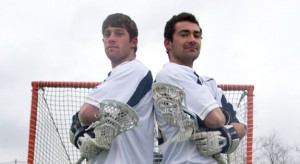 Billy LaPerch, a junior midfielder for the Indians, brought the ball up at a blistering pace on the fast break. The opponents were expecting a simple pass to the left, but LaPerch had something else in mind.
While LaPerch made his move, junior attack Brian DiBetta quietly darted toward the right side of the goal and set up to receive a pass. Just when it looked as if LaPerch was about to drop the ball off on the perimeter, he found DiBetta wide open and sitting by the net for an easy score.
Their teammates could only shake their heads and laugh — they knew this surprise play had been drawn up during countless neighborhood pickup games when the two boys were younger. Five years later, DiBetta and LaPerch are taking over as senior leaders of the men's lacrosse team. DiBetta, now a midfielder, won a team-high 130 face-offs last season and LaPerch had a four-game scoring streak in 2011.
Residents of their hometown, Katonah, N.Y., will say the close bond between DiBetta and LaPerch goes further back than their four years together at the college. Their friendship dates back to when they were four years old and their families moved into new adjacent development houses. The pair spent nearly every day of their formative years playing football, hockey, basketball and lacrosse in each other's driveways and backyards.
DiBetta's older brother, Matt, said having the two friends live just 20 feet away helped to combine each of the households into one extended family.
"We would be sitting there at dinner, and Bill would just walk in all the time," Matt said. "He's legitimately our fourth brother, and he is probably closest to Brian other than his real brothers."
When the two friends weren't playing sports together, they were usually up to some sort of mischief. The boys' childhood friend, Chris Bocklet, remembered LaPerch's family being in on one of their most memorable adventures.
"I remember one time the older guys lit a tiny fire in the road, and the neighbors called the police," Bocklet said with a chuckle. "The fire department came, and we were all so scared, but Billy's mom brought us all into her house and hid us in her attic so we wouldn't get in trouble."
For all the foolish things they did together, DiBetta and LaPerch were also quick to support each other when life turned more somber. DiBetta reflected on how LaPerch spent time playing video games and watching movies with him after DiBetta tore his ACL before their senior season of high school lacrosse.
"There was a lot of downtime for me, and while everyone else was going out and having fun, Billy was always kicking it with me," DiBetta said.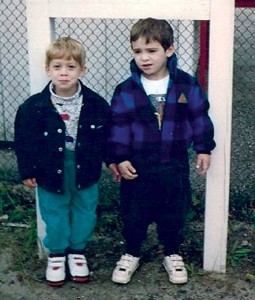 Similarly, LaPerch said he was glad DiBetta was there to help him cope with the death of his grandmother.
"I was in and out of school going to the wakes and the funeral, and I really wasn't expecting Brian to come to either of them," he said. "Having to greet people I didn't even know who knew my grandmother got old pretty quick, and he came by and sat down with me and helped take my mind off the situation."
Matt said the amount of time DiBetta and LaPerch have spent together over the years has caused them to inherit several of each other's personality traits.
LaPerch said DiBetta was a shy kid in elementary school but that he has really come out of his shell since then.
Matt said LaPerch has mellowed out from the reckless days of his youth. DiBetta maintains that LaPerch is still very much a free-spirited person.
"You'll see it out on the lacrosse field when he's wearing pink socks, or he'll grow his beard out and it looks ridiculous, and you'll see him out on the weekends wearing whatever," DiBetta said.
Many of the pair's friends assumed that the two would attend the same college. But that conclusion was not as inevitable as it seemed.
DiBetta was hungry to get back on the lacrosse field after missing his entire senior high school season with his torn ACL, so he chose to play lacrosse for the Bombers relatively early. LaPerch wasn't sure he wanted to continue playing the sport in college and waited until the first deposit deadline of April 1 to commit to the college.
When asked if DiBetta's early commitment factored into his decision, LaPerch said there was peace of mind knowing his longtime friend would be there.
"I'll say 'No' when I'm talking to him so that he doesn't get all cocky about it," LaPerch said. "But he's usually making the right decisions, so I thought if he was making a decision like that, then I might as well give it a try."
Four years later, DiBetta and LaPerch are glad they chose to attend college together. The two childhood friends will now lead a team that is determined to claim its first Empire 8 Conference title since 2008. Senior defenseman Will Kraus said both players provide stability as the only seniors in the center of the Bombers' lineup.
"They have the most leadership at the midfield position," Kraus said. "Billy is one of the best all-around players on the team on both offense and defense. Brian leads the team with our face-offs, and he basically runs the games by how he's playing."
The two childhood friends are assured of at least one more summer together, as they will be working at an internship at Budweiser in Montauk, N.Y., that DiBetta's father set up. Once fall comes, the friends' career paths will likely split, but DiBetta doesn't see any physical distances affecting the bond the two have established since they were little kids.
"We'll see what happens down the road, but it doesn't really matter," DiBetta said. "We'll always be tight because we've been such good friends, and that's the way it's always going to be."