While compiling a record of 2–3 on the road to start the season, the women's basketball team has defended its home court, posting a 2–0 record in Ben Light Gymnasium.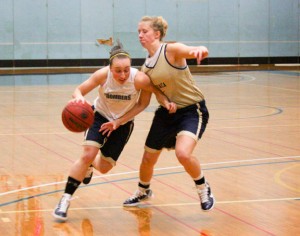 The Bombers' success at home should come as no surprise. In their three and a half years on campus, this year's senior class has only suffered six home losses during 39 regular season home games.
Through the Bombers first six games this season, the Blue and Gold are scoring an average of 19 points per game more than opponents at home, and an average of 12.6 points less than opponents on the road.
Senior guard and forward Jordan Confessore said the team likes playing at home more because of the extra support from fans, and more friends and family tend to come to home games than away games.
"It's easier to get the adrenaline going at home playing on our own court," Confessore said. "It's definitely a different atmosphere, and we feel comfortable there."
The Bombers' last regular season home loss was a 59–58 decision to St. Lawrence University on Dec. 11, 2009. Since that game, the South Hill squad has won 11 consecutive home games, the most recent of which was a 65–41 rout of SUNY-Potsdam
on Nov. 28.
Senior guard Jane DeBiasse said the Bombers prefer playing at home because it's easier for the team to go out early and set the tone from the beginning, which is something that's not as easy for the team to do on the road.
"Since I've been here our coaching staff has really stressed us taking pride in defending our home floor," DeBiasse said. "As a team we don't like the idea of other teams coming into our gym and beating us."
Senior forward Elissa Klie said the Bombers are more comfortable at home when they have enough time to prepare rather than feeling rushed during pregame warm-ups.
"Playing at home is always the same," Klie said. "It's the same atmosphere, the same warm-up routine and songs. It's where we practice every day, and it's our comfort zone. We're able to do what we need to do beforehand to prepare for every game."
The fact that the South Hill squad plays better at home can be seen in the team's execution on offense.
The Bombers have had a higher shooting percentage than opponents in both of their home wins this season, but the team has only posted a higher field goal percentage than an opponent once on the road.
Junior guard Jessica Farley said the squad has a routine before every home game in the locker room to "get psyched up," and it's something the team does not get to do on the road.
"We all stand around the lockers and we scream, and we have a little chant that we say," Farley said. "Since I was a freshman we've done it, and we teach it to the underclassmen."
Playing at home motivates the team to play harder, Confessore said.
"We all feel like when we're home we get that extra push to play well," she said.