Junior Kait Dolan digs her spikes into the dirt, loads up from first base and takes off toward second. She takes a backdoor slide past the shortstop and grabs the bag with her left arm.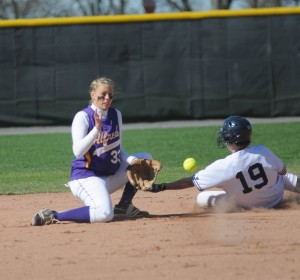 "That's four!" members of the softball team yell from the dugout as Dolan picks up her fourth stolen base of the day in game two of a doubleheader against Alfred University on Saturday.
While the Bombers have become notorious for their power at the plate, they also bring speed on the base paths.
"We definitely have a really fast team," freshman Jennifer Biondi said. "Not only that, we're definitely looking to pick up the open bases to just work the field, work the base running, so it's really been huge."
The Bombers are 29-for-35 in steal attempts, and Dolan leads the team in stolen bases, going a perfect 7-for-7.
"It was a good day on the bases," Dolan said. "Coach finally started sending me, and as long as I get a good jump, I'm usually OK, and [Saturday] that was the case four times so that was nice."
Junior captain Allison Greaney said the Bombers use "specialty runners," who come in just to pick up the extra base, and she said the Bombers constantly work on speed in practice.
"We do [drills] in practices just working really different motions, different pitchers so we're not surprised, just trying to get off as soon as we can, getting good jumps, staying down," she said. "Coach has a lot of noodles that we have to stay under or stay under a bat just to stay low and quick."
Biondi said anytime the South Hill squad does hitting drills, there are people out running the bases.
Dolan said the Bombers work on baserunning almost every single day. She said the timing drills work well because she feels that by getting a good jump, she steals on the pitcher rather than the catcher.
But the Blue and Gold's speed helps in more ways than just stealing a bag. In the Bombers' doubleheader against Rochester Institute of Technology, Dolan used her quickness to score from first on a double by junior Brittany Lillie, something the team has even created a club for.
"We have a first to home club on the team, and now I'm a part of it," she said. "It's usually a select group of people who have some wheels. I think it's the first time I've done it this year, so I'm pretty amped about it."
Dolan said the other members of the first to home club are senior Caitlin Ryan, junior Kerry Barger and Lillie.
Biondi said after the team struggled the past couple of weeks with small ball, speed helped the Bombers recover from those mishaps.
"Speed kills, period," Dolan said. "And speed will get you through any game as long as you can get the ball in play somewhere. The second they throw a change-up, we steal on a change-up. If they have a ball in the dirt, we can steal on a ball in the dirt. Speed kills … so it's really good we have a lot of speed this year."