With a recent lack of confidence plaguing the men's lacrosse team, the Bombers are starting an uphill climb to make the NCAA playoffs.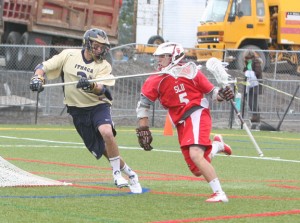 After starting the season with a record of 5–1, the Blue and Gold have dropped five of their last seven games, dropping their overall record to 7–6.
Even in games where the Bombers have a lead, confidence seems to be lacking. Ithaca took an early 2–0 lead in the first period of its game against SUNY-Cortland on April 6, but allowed 11 unanswered goals and ended up losing 13–4.
Junior captain Tom Mongelli said the collapse at Cortland had a snowball effect.
"We were kind of playing a little timid," Mongelli said. "If we made a mistake, we knew it was going to cost us. When things go wrong for us it comes in surges."
The Bombers were in a similar situation Saturday, holding a two-goal lead against Nazareth College, only to fall 6–5 after four periods. Freshman Jake Long said the team was not playing to its potential and showed a complete lack of inspiration.
"Our middies aren't running the way we know that we can run," Long said, "We weren't dodging with the purpose to score. I could just see there wasn't that will to win."
The South Hill squad briefly found its confidence against an inferior Utica College team April 13. Sophomore Andrew Bruce said the game against the Pioneers was a chance for the Blue and Gold to prove to themselves that they have what it takes to win important games.
"When we went into Utica, we knew we were going to beat them in every aspect of the game," Bruce said. "We need to come in with that confidence and that swagger for the rest of the games we have."
Playing in the mud and rain brought the team back to its roots, and it dominated Utica, scoring 20 goals — the most the Bombers have scored all season. All 36 players on the roster saw playing time in the blowout win.
Senior Mike Silipo said for the first time in a while, the team was able to relax and just have fun, because it had such a large lead.
"It's like those moments when you were a kid," Silipo said. "You're just running around sliding in the grass just to get dirty."
Long said the Bombers desperately needed to see positive results and dominate all 60 minutes of a game. He said the game reminded the team of the self-assertive mentality and diligent approach necessary to take down an opponent.
But the faith was short-lived. The South Hill squad has since lost twice at the hands of higher-ranked teams.
With four non-conference losses on the season, the Bombers chance of earning  an at-large bid to the NCAA tournament is all but impossible.
The South Hill squad currently sits in fifth place in the Empire 8 conference with a record of 3–2. Two of the three remaining conference games for Ithaca are against teams below them in the standings. They need to win both of these games to have a chance at the conference title.
Silipo said the players have channeled their frustration by being more aggressive in practice and lifting more in the weight room. He said this developed a sense of urgency going into the final three games, knowing winning these games is essential to making the playoffs.
"We know we're more talented than every team we're going to play from here on out," he said. "We need to correlate that talent with confidence and turn it into a full game."
Despite the recent frustration, seniors Roniel Bencosme, Jay Lucas and Silipo understand that this may be their last chance to play competitive lacrosse. Silipo said he cannot focus on the past and can only look forward to the future.
"The next day you just have to move on," Silipo said. "You get another opportunity to practice and another opportunity to play and get better."
Silipo and the seniors have been giving postgame speeches after the past few losses, calling upon the younger players to find their internal motivation.
For Long, these speeches have reminded him of why finding confidence is the only solution to keeping his best friends' season alive that much longer.
"I want the seniors to be here as long as possible," Long said. "We've all become a family, and I want to make history with this team."