After flooding canceled last season's New York State Championships in Whitney Point, N.Y., the women's crew is determined to prove it can prevail in races against the state's top-ranked crews.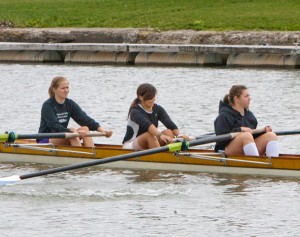 The Bombers are ranked fourth in New York state heading into this weekend's state
title meet. Head Coach Becky Robinson said the crew is most concerned with each boat emerging with a win because each race will be critical toward finishing the season on a high note.
"We're focused on winning individual races against individual boats and
getting into the front of the pack," she said. "We want to go head-to-head with crews, race in close races and come out on top of those races."
The Blue and Gold have struggled this season compared with recent years.
After finishing their home schedule with wins in four of five races against St. Lawrence University and Skidmore College on April 14, the Bombers competed in Massachusetts during the second half of the season. They wrapped up their regular season schedule by falling to nationally ranked Williams College on Saturday in all four races on Lake Onota in Pittsfield, Mass.
Though the results of the race weren't what the crew had hoped for, senior Abby Paulson, a member of the first varsity 8 boat, said the crew still felt prepared for this week's state title regatta and the Eastern College Athletic Conference Tournament on May 11.
"Every race you do, you learn something about your boat," Paulson said. "Because our eyes are really focused on states — because we think we can make a splash there — it was just another good practice. Especially in tough and windy conditions."
Looking toward this weekend's state championships, which will feature competitive and recreational crews, the Blue and Gold have their eye on longtime rival William Smith College. The Herons are ranked third in the nation and first in New York state. They also clinched the Liberty League Championship for the second consecutive year after their varsity 8 defeated second-place St. Lawrence by more than 12 seconds Saturday.
The Herons took victories against the South Hill squad's first and second varsity 8 boats during the last meeting between the crews in April of last year, while the Bombers' novice 8 defeated William Smith by nine seconds. Paulson said the Herons have many fast rowers, but they are a crew that is within the Bombers' reach.
"They're always close to us, and this year they have kind of a lightning-strike crew," she said. "We're trying to get as close to them as we can because they're definitely a contender for an NCAA bid."
The Blue and Gold's boats will also face tough races against St. Lawrence, Hamilton College and the University of Rochester. Ithaca's first varsity 8 boat finished fewer than five seconds behind Rochester and St. Lawrence in races on April 7 and 14, respectively, on Cayuga Inlet.
Though the Blue and Gold lost to the St. Lawrence Saints and Rochester YellowJackets earlier this season, they're confident the work they have been doing to prepare will allow them to come out on top in the state regatta this time around.
Sophomore Lindsey Miller, coxswain of the second varsity 8, said the crew's earlier races have unified it. It has been preparing for postseason regattas the same as regular season ones, she said.
"We've finally been able to come together on and off the water with a mindset that clicks for everyone," Miller said. "At this point, we've already hammered out our race plan — it's just smoothing out the edges to get those last extra seconds faster."
Senior Gabby Waldvogel, who coxes the first varsity 8, said the crew has the competitive drive to win all the races at states for the third time in four seasons.
"We had some races against Rochester and St. Lawrence earlier in the season, so we know we can beat them now," she said. "We're taking back what's ours."