It's difficult to get on the baseball team's bad side. At the collegiate level,
where players are predominantly right-handed, the Bombers' batting lineup is mismatching opponents from the left side of the plate.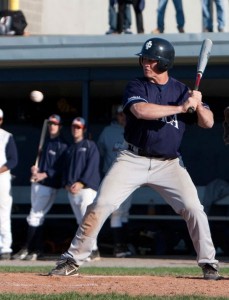 Through 21 games, the Blue and Gold have seen balanced production from both sides of the dish, but they often compete with a lineup that features three left-handed batters in the top five.
Senior outfielders T.J. Abone and Jon Krakower, junior first basemen Trevor Wolf, sophomore outfielder Mike Rosenbaum and freshman first baseman Nick Carlson are all lefties on the team that continually cause matchup problems for opposing pitchers.
"It's certainly a plus," Head Coach George Valesente said. "Good hitters are good hitters, whether they're facing righties or lefties, and it's nice to have. But I do believe that the left-handers should punish the right-handers more so on a regular basis from that standpoint."
After going 2–9 to start the season, the Bombers turned it around in April, posting a record of 8–2 to date, and outscoring opponents 83–33. While the lineup produces from top to bottom, it's the plate discipline of the lefties — accounting for 39 percent of the walks on the team — and a combined .424 on-base percentage from Wolf, Abone and Krakower that create scoring opportunities.
"It's really important," Wolf said. "Any way to get on-base helps the team. Between me, Jon and T.J., we all have a pretty keen eyesight for the strike zone and that definitely causes havoc for pitchers. They can throw a good curveball and we won't bite on it, so it kind of frustrates pitchers."
With Krakower and Rosenbaum seeing time at the leadoff spot, while Abone and Wolf are currently slotted at three and five, respectively, it's no surprise that left-handed batters have accounted for 43 percent of the runs scored this season.
"That's what coach preaches to us all the time," Abone said. "He goes, 'The top of the order, you guys are our spark plug — you kind of set the tone for the game, and if we can get you guys on no matter how you get on, hit, walk or whatever, you guys really set the pace.'"
Alternating left-handed with right-handed batters at the top of the lineup, which depends on the opponents' starting pitcher, gives the opposing pitchers mismatches and batters a slight advantage.
"It's something, especially at the DIII level, you don't see as often," Wolf said. "It's probably one of the most important aspects of our lineup as well. It's really beneficial to create havoc against opposing pitching staffs because they can't get a matchup."
As the Bombers continue to benefit from strong hitting on both sides of the plate, it's the combination of left-handed hitters going up against primarily right-handed pitchers that is giving the team a slight advantage.
"It's always nice to have good left-handed hitting because you're going to see more right-handed pitching," Valesente said. "It just seems to be that way, and the more left-handed hitting — the stronger your left-handed hitting is — the better it's certainly going to be."