The men's basketball team lost two Empire 8 Conference home games this weekend, falling to Stevens Institute of Technology 71-67 on Friday night and losing a tight matchup with Hartwick College yesterday by a score of 78-75.
The Bombers had entered the weekend in a four-way tie for first place in the Empire 8, but begin the new week behind the three teams tied for first place. The Blue and Gold currently sit in fifth place with a conference mark of 5–4 and an overall record of 8–12.
In Friday's contest against the Ducks, sophomore forward and center Frank Mitchell netted a career-high 28 points and scooped up nine rebounds. Junior guard Sean Rossi added 14 points and a game-high nine assists.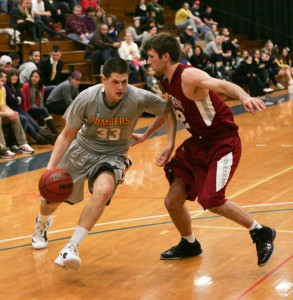 The South Hill squad played stalwart defense, swatting six shots compared to the Ducks' one block. But Stevens outrebounded the Bombers 44-33 and outshot South Hill from the floor 45 percent to 43 percent.
The following afternoon, Hartwick sophomore guard Anthony Keane hit a buzzer beating three-pointer as time expired to give the Hawks (18–2, 7–2 Empire 8) a thrilling victory on Senior Day in Ben Light Gymnasium.
The game was electrifying throughout, as the teams were tied 11 times during game play.
Mitchell lead the Bombers' scoring barrage, totaling 22 points and five rebounds. Senior guard Jordan Marcus and sophomore center Tom Sweeney added 10 points apeice.
Ithaca trailed 75-72 with 22.1 seconds remaining when Rossi drained one of his five three pointers of the game to tie the score with just under five seconds left.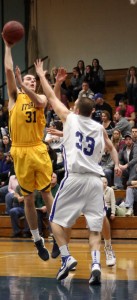 Rossi said the Hawks' defensive strategy enabled him to know he was going to have to step up and take the shot.
"I knew they were trying to foul me at first because they were up three with four seconds left, and so I'd go to the line and shoot a one-and-one," Rossi said. "He tried to foul me, but he just fell behind me and I got wide open, so I let it go and it went in."
But Hartwick then scooted down the floor and found Keane right in front of the Hartwick bench. Keane's shot swished through the net as the backboard glowed, signaling time had expired.
The Bombers allowed Hartwick sophomore forward Mike Geisser to shoot a perfect 5 of 5 from three-point range. Both teams had the same number of free throw attempts (26), but Hartwick made 20 compared to Ithaca's 17.
Rossi said the team wanted to win for the two seniors playing their last home game, Marcus and guard Sha Ali.
"We had the mentality, we knew the game was important, and we knew it was going to be a high-energy game," Rossi said. "They just made a tough shot at the end."
Marcus said it was odd to think he may have suited up at home for the last time, but it did not affect his play against Hartwick.
"I was exited at first and thought I came out strong," he said. "Once the game gets going you kind of don't think about those kinds of things, but it was definitely a little weird playing in my last game there."
Sweeney, who matched his career-high in points, said now the team cannot afford to lose any more Empire 8 Conference games.
"Every game we've just been coming out and playing like its our last game, which is what were definitely going to have to do now after this weekend," he said.
The Blue and Gold will travel to Nazareth College for an Empire 8 game with the Golden Flyers at 8 p.m. on Friday.