Sophomore forward Rachael Palladino has been a key player since her first game for the women's soccer team as a freshman. Now in her second year, Palladino brings experience and composure to the field as the team's top returning goal scorer.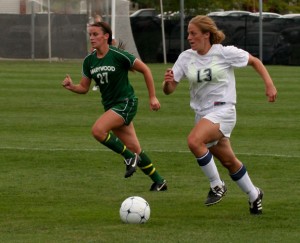 In her first season with the Blue and Gold, Palladino finished second on the team in points with 31 after tallying 12 goals and seven assists in 23 games. Though just six games into the 2010 season, Palladino has scored nine goals, dished out four assists and moved up to 14th place on the women's soccer team's all-time scoring list.
Assistant Sports Editor Jesse Cases sat down with Palladino to talk about tying the single-game record for goals and her expectations for her second season.
Jesse Cases: Has your mentality changed on the field now that you're a sophomore and returning as the team's top scorer?
Rachael Palladino: I'm trying to be more of a leader and help all the incoming forwards, trying to help them out, telling them what to do and trying to just be more vocal on the field to help everyone out.
JC: What's it going to take as a team to accomplish the goals you've set for the season?
RP: We all have to be on each other about working hard and trying to improve the things that we need to improve on, even though sometimes that's hard. We just have to be really honest with each other about that and come to every practice with a hardworking attitude and getting better at whatever we're focusing on during that practice.
JC: How do you feel being 14th all-time on the scoring list just six games into your second season?
RP: I haven't really thought about it. It's an honor, but I kind of shy away from that stuff. I don't like being the center of attention, but it's a good feeling to be at that point so early.
JC: How is it working with such a large team?
RP: I enjoy all the girls. It's a lot of fun working with all of them. There's a lot more competitiveness during practice because everyone's fighting to wear a jersey or to play during a game. I like how everyone comes in and works their hardest no matter if they're a starter or not.
JC: What team goals do you have for the season?
RP: For the team, we want to make it farther than we did last year. We have very high hopes for this season; we're working hard and trying to get to the Final Four.
JC: What is your role on the field?
RP: I've wanted to step up and be more of a leader, especially since we brought in so many forwards. Coach [Mindy Quigg] told me I had to talk more to help people out and tell them what they can do to make the team better and what I can do to make the team better.