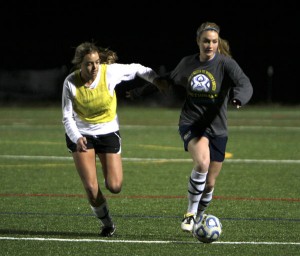 Though the team is making its 22nd playoff appearance, this is the first time since 1998 that the Blue and Gold have played in the semifinals.
Junior forward Rachael Palladino said the team was ready to build on its regular season success after coming up short in the Empire 8 Conference tournament.
"When we got a bid, we didn't really have any expectations besides the fact that we wanted to prove to ourselves that we were way better than the last game we played before the tournament," she said.
The Bombers beat nationally ranked teams Illinois Wesleyan University, Ohio Northern University and Trinity University, which was 22–0. They have won by one goal in three of their four playoff games, two of which ended in extra time.
Palladino said the intense playoff atmosphere has gotten the South Hill squad excited to play rather than made the team nervous.
"Before each game I can feel the energy in our team," she said. "All of us are excited and ready to get on the field and leave every ounce of energy we have on it."
Though the team was outshot in three out of its four wins, the Blue and Gold have only allowed one goal in the tournament so far, which came in the 2-1 overtime win against Illinois Wesleyan on Nov. 12.
Junior midfielder Julie Winn said the team knows one small mistake can cost the Bombers a chance at the program's first national title since 1991.
"We knew that there were no more second chances this year," she said. "We had to work hard and play with our hearts to keep our season going."
Palladino and sophomore forward Ellyn Grant-Keane have combined  for four goals and three assists in the NCAA playoffs. Grant-Keane said her and Rachael's history playing together in Lansing, N.Y., before playing for the Bombers has helped them develop chemistry.
"Rachael and I work well together because we have played together since we were about 10 years old," she said. "We have been playing next to each other on the field in high school, club and travel teams."
The Bombers will be going up against sixth-ranked Wheaton College at 2:30 p.m. tomorrow in San Antonio, Texas, for a spot in the national title game Saturday.
Winn said the Bombers will  have to look past Wheaton's recent playoff accomplishments and concentrate on what the Bombers must do to emerge with a victory.
"By not worrying about our opponents and what they were planning to do, we were able to play without fear," she said. "We have been the underdogs throughout this tournament, so if teams continue to underestimate us, then we will continue to persevere and come out on top."