Having fallen short in last year's Empire 8 Conference tournament championship game, the women's basketball team will embark on a journey to win its first conference tournament since 2007.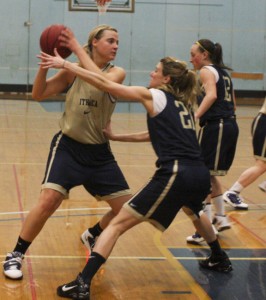 The Bombers will host the Empire 8 tournament and kickoff competition at 6 p.m. Friday in their semifinal matchup against Utica College.
The game will be a rematch of last year's final, where the Pioneers upset the Bombers 38–37 to claim the title. In that game, the Blue and Gold, after trailing late in the second half, took a 37–36 lead with just seconds remaining before Utica forward Jessica Berry hit the game's winning shot as time expired.
Junior guard Jessica Farley said the Bombers' game plan hasn't changed in preparation for the tournament, and the main thing the Blue and Gold need to do this week is stay focused.
"It's going to come down to who wants it more and who can handle the pressure," Farley said. "We can't get down on ourselves — it's not going to be another team beating us. If we lose it's going to be us beating us ourselves."
In their two previous games this season against Utica, the Bombers have an average win margin of 17.5 point per game. In a 74–53 win at Utica on Jan. 11, the Blue and Gold held the Pioneers' two leading scorers, senior Jessica Berry and sophomore Meghan Fiore, to just 24 points combined.
Head Coach Dan Raymond said the coaching staff has been breaking down game tape from the Blue and Gold's last game against Utica in preparation for the first round of the Empire 8 tournament.
"We have to figure out if we need to make any changes against Utica with Berry and Fiore, specifically," Raymond said. "Those two are their primary scorers; it's not hard to figure that one out."
The Bombers put up just 46 points Saturday in a loss at Stevens Institute of Technology. It was the lowest scoring output for the squad this season and resulted in the Blue and Gold's first regular season conference loss in more than two years.
Despite the loss, the Bombers will stick to their style of play to be successful, senior forward Jordan Confessore said.
"We're really confident as a whole," Confessore said. "We are coming off of a loss the other day, but that's just going to drive us to do better. We definitely don't want to lose again, and when we play our best, we have what it takes to play with anyone."
Raymond said in order for the Blue and Gold to win the Empire 8 tournament this season, the team just has to put in a solid effort on both ends of the floor like they've been working on all season.
"It doesn't matter who we play, it doesn't matter where we play, it just matters how we play," Raymond said. "There's no secret weapon or anything like that, it's just executing, and we would really like to finish the season where we put our sights at the beginning of the season, and that's with the Empire 8 championship."