The women's basketball team was trailing SUNY-Potsdam 29–26 two minutes into the second half Sunday, and then senior forward Elissa Klie took over. Klie hit a free throw, made two fast break layups and then hit another pair of free throws, and just like that the Bombers had a 35–29 lead.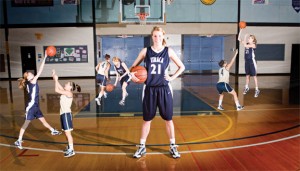 The Blue and Gold would go on to win the game 65–41 with Klie finishing second on the team with 14 points and nine rebounds.
Watching Klie fill up the box score has become a nightly event. Klie, a television-radio major with theater and scriptwriting minors, is in the top five on the team in every major statistical category.
Klie's success on the court shouldn't come as a surprise since her father, Bob, was a basketball coach. Klie said being the daughter of a coach always made her want to work hard and compete.
"It's always been a big competition thing for me and just pure love of the game," Klie said. "As a coach's daughter you're never allowed to not work hard, and that was kind of drilled into my mind really early."
An all-county selection as a junior and senior at Ramapo High School in New Jersey, Klie helped lead the team to the Bergen County finals both years but fell just short of the county championship both times.
Senior guard Jane DeBiasse, who has been Klie's roommate since their sophomore year, said Klie has always been a hard worker even off the court. When she's not playing basketball or doing schoolwork, Klie devotes time to her favorite off-court activity — acting.
"She really works hard at that," DeBiasse said. "She just wants to succeed at everything she does, and it really shows in all aspects of her life. She's definitely a hard worker all around."
Klie takes a class off campus twice a week at the Actors Workshop of Ithaca. The workshop is not affiliated with the college, but Klie said it's something she really loves taking part in. Through the workshop, Klie has been involved in student films and is part of a YouTube series called "Avenue Avery."
"We have class a couple times a week and we put on showcases and stuff like that," Klie said. "I really enjoy it and that's kind of what I want to do with my life if at all possible."
Klie said her favorite thing about acting is seeing what kind of things she would do if she were another person, and she still gets nervous before every performance. In her eyes, basketball and acting aren't very different.
"I relate acting and basketball a lot," Klie said. "My parents always talk about how similar performing is, whether it's musically or in theater or on the basketball court. They are similar, and it's definitely an adrenaline rush regardless of which I'm doing."
Klie said one of the main things that drew her to Ithaca College was the Roy H. Park School of  Communications and the college's size, but also the fact that her older sister, Rebecca '07, attended the college.
"I knew a lot about it; my older sister loved it, and I could play here," Klie said. "It seemed just kind of like a perfect match. She was a television-radio major, and she loved it. We're pretty similar people so it seemed like someplace I could really enjoy myself at."
The two never played together in high school because of an age difference of four years, but Klie said she would occasionally play on her sister's summer league team while she was in middle school if the team needed more players.
Head women's basketball coach Dan Raymond saw Klie play in high school and contacted her about coming to the college.
Raymond said what initially caught his eye about Klie was how hard she played on the court.
Klie's eyes are constantly surveying the floor as she moves in short, quick deliberate steps around court. Then with a burst of speed, her arm extends and knocks the ball just out of reach of her opponent, and Klie is gone. Darting down the court, Klie crosses over several times before dishing off the ball at the last second, past the outstretched hand of a defender, to a teammate for an easy layup.
It's her multifaceted style of play that allows her to be in situations where she is needed to play both offense and defense, Raymond said.
"She's our best player and our hardest worker and that started when she arrived on campus as a freshman," he said. "She's always been a hard worker, but what she did in preparation for this season has just been exceptional. She's the type of person that you want to be around all the time; she's a coach's dream."
Klie spent last summer in Ithaca, and Raymond said every time he was in his office doing work or if he walked past the gym, it seemed Klie was always practicing.
DeBiasse said Klie brings a new feel to the Blue and Gold with her inside game, which is something the squad has lacked in past years.
"The last few years we haven't really had a strong inside presence, and Elissa has really brought that to the team," DeBiasse said. "She's really been the glue that holds us together on the court, and it's great to have someone to do that."
DeBiasse also said Klie brings the team together on the court, and her work ethic drives other players to work just as hard.
"She's intense enough to bring the team to take it seriously," DeBiasse said. "But not so much to where it's not fun."
Klie said she has always had the support of her family while playing, and the support she gets from her teammates is another thing she loves about playing at the college.
"Being part of a team is really important to me," Klie said "That's another great thing about being at school, you have this little family that you're always with."