While many Ithaca College students spent Saturday morning catching up on sleep, students from the Department of Sport Management and Media honed their networking skills and plans for their futures at the Careers in Sport Symposium.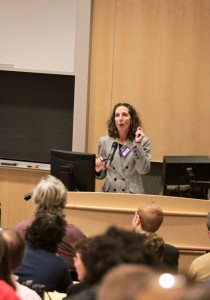 This is the 20th year of the symposium, which is sponsored by the Department of Sport Management and Media. This year's event, which more than 150 people attended and was held in Textor 103 and Friends Hall, brought in 15 speakers, several of whom were Ithaca College alumni, and featured a keynote speaker, panel sessions and a tailgate.
The symposium is held to facilitate interaction between alumni and students and encourage networking, Ellen Staurowsky, professor and graduate chair of the department of sport management and media, said.
"We developed it because we knew we had so many great graduates working in the industry, and we knew we wanted to make this connection between students in our current program and our graduates working in the industry," Staurowsky said.
After a continental breakfast, keynote speaker Amy Doonan Cronin '82 took the podium. Cronin, a special assistant for the New York Six Consortium and associate with Alden and Associate, spoke about the importance of networking and the positives and negatives of working in the sports industry.
"People are willing to talk to you, especially Ithaca College alumni," Cronin said. "So talk to the people that are doing the types of things that you'd like to do — do not be shy. Because that's how you're going to build your network."
After Cronin's presentation, several panels were offered to the people attending, including "The Business of Baseball," "Destination College Sport" and "Sport Marketing and Media," where panelists spoke about their experiences in the sport industry and answered questions from the audience. Some of the topics discussed in the panels included the future of sports marketing, the pros and cons of working in different media markets and the challenges of finding a job right out of school.
"The curriculum [of the symposium] is more of a how-to guide," Staurowsky said. "It's about taking what a student is doing in Ithaca, and then taking the steps that they need to be taking to move on into the career that they hope to land when they leave Ithaca. Our grads serve as tour guides to help make that happen."
The day ended with a tailgate at noon in the Center for Health and Sciences parking lot, which was planned by Craig Paiement, assistant professor of sport management and media, and his Sports Facilities and Events class.
Sophomore sport management major Molly O'Donnell, a student in Paiement's class, said it was beneficial to hear from people who have had success in finding a career in sport.
"It's a little intimidating having to come in and talk to alumni," O'Donnell said. "But it's reassuring to see that you can start here at Ithaca and make your way up, and just knowing that you're not the only one that has come in and done that."
It was only two years ago that Michael Polak '10 attended the Sport Symposium as a student, but he was on the opposite side of the table, giving advice and insight to current students Saturday.
"It was so helpful for me when I was here," Polak, an associate producer for MSGVarsity, said. "It's great to be back to share what I've learned with others and hopefully help them get the positions that they want."