The women's basketball team finished last season with the first 16–0 record in Empire 8 conference history. This season the Bombers have continued their conference domination by winning their first eight games, including most recently a 73–52 win against Hartwick College on Sunday.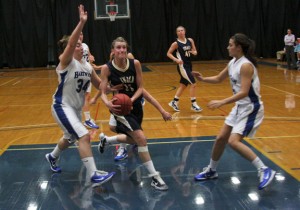 Head Coach Dan Raymond said one of the key focuses for the Blue and Gold this season is defense, which has helped them win some close games.
"When we don't shoot well, we're staying in games because of our defense," Raymond said. "We're making enough plays to come out on top."
The Blue and Gold have not lost a regular season Empire 8 game since Feb. 14, 2009, when the team dropped a 65–45 decision to St. John Fisher College. Since that loss, the Bombers have won 26 straight regular season conference games.
Raymond said what has helped the team be so successful is its ability to focus on what it needs to improve on rather than its opponent.
"It's always about what we can do," Raymond said. "We're basically competing to get better against ourselves, so it doesn't matter who we play. The goal isn't to beat that team. It's to play the best that we can, and that's what we focus on."
Senior forward Jordan Confessore said though the Bombers focus on what they can control, being familiar with their Empire 8 opponents also contributes to the team's success.
"We scout all the teams," Confessore said. "We get to see a little bit of what they do, and being here for four years, I've played all the teams numerous times, so I know a little bit about each team."
In fall of 1999, the Empire Athletic Association officially became the Empire 8 Conference. Since then the worst record the Bombers have posted in Empire 8 play in a single season was a 9–5 record during the 2005–06 campaign. Other than that, the team has recorded at least 10 wins in conference play every season since then.
Senior forward Elissa Klie said playing tough opponents out of conference is something that helps the Bombers in the Empire 8.
"When we play tougher competition, they get us to play at a higher level," Klie said. "So when we get back to our league we're already at an advantage after playing better teams."
In its four years on South Hill, this year's senior class is now 49–5 in regular season Empire 8 games. The success is something Confessore said is rewarding for the team.
"Other teams respect us for what we've done," Confessore said. "It's great to have your name out there as one of the top competitors in the Empire 8. When teams play us they know it's going to be a tough game, and that's what we get out of winning all these games."
Klie said in order for the Blue and Gold to continue winning, they will need to stay focused because their success makes them a target.
"Being at the top, all by ourselves at No. 1, people are really going to be coming out harder, faster and stronger to try and knock us out," Klie said. "The next time we play all of our opponents in league, we can't take anyone for granted."