The hard rims in Ben Light Gymnasium have not been kind to the men's basketball team this season.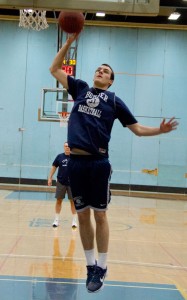 The Bombers are being outrebounded by a margin of six boards per game, which ranks them last in the Empire 8 Conference. The Bombers are second to last in the conference in total rebounds per game, averaging just 33 in a 22-game span compared to leader Stevens Institute of Technology, which average 43 per contest.
Head Coach Jim Mullins said he has not seen a Bombers team that has rebounded so poorly in all of his 14 seasons at the college.
"This is probably the worst rebounding team that I've ever been affiliated with," he said.
The graduation of last season's captains, center Phil Barera '11 and guard Chris  Cruz-Rivas '11, has hurt the Blue and Gold in the low post. Sophomore guard Miles Grier transferring to University of Mobile means the South Hill squad has lost three of its top four rebounding leaders from last season.
Barera pulled down an average of 8.5 rebounds per game last season and ranks 12th in all-time rebounds in the program with 578. Cruz-Rivas snagged about eight per game and Grier grabbed an average of four per game. By contrast, this year's team leaders in rebounds are sophomore forward Frank Mitchell, who registers about 7.5 per game, and junior forward Andrei Oztemel, who averages five boards per contest.
Mullins said there was a direct correlation between the team's rebounding and its subpar record. He said no one on the team was able to pick up the slack during the recent home Empire 8 Conference games.
"I don't know if it's as frustrating to them as it is to me, but it seems to me that it's not a difficult thing to correct," he said. "The ball goes up, and you go and get it."
The team has been doing rebounding drills in practice every day to improve. Mullins said these drills are incorporated into daily intrasquad scrimmages during practices.
"The nice thing about basketball is anytime you're involved in any type of a scrimmage, all of your skill sets are built into it," he said. "There's rebounding in that."
Senior guard Jordan Marcus said sometimes there is a punishment for not boxing out during practice. He said if a defender gives up an offensive rebound during five-on-five situations he has to run a sprint.
"Every week we've been amping up the rebounding drills in practice," he said. "We're trying hard, but we're just not a good rebounding team this year for some reason."
Oztemel said the team has an aggressive mentality, but the end product has not shown up on the stat sheet so far this season. He said the psychological portion of fighting off opponents to grab a loose ball is an aspect of rebounding that cannot be taught in a drill.
"The person who wants the ball more is usually the person who's going to come down with it," he said. "It's about heart and desire."