After two disappointing tournaments to open the season, the volleyball team is looking to cut down on mental mistakes and turn its season around.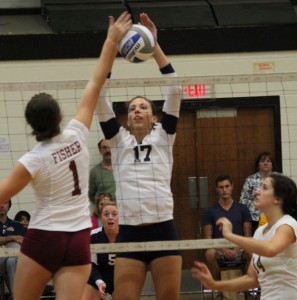 Senior middle blocker Kate Thoene said a lack of consistent focus has led to a 3—5 start to the season.
"We haven't come up against a team who's better than us physically yet," she said. "It's our own mental errors that have been bringing us down."
The Bombers got off to a strong start, defeating Rutgers-Newark and SUNY-Brockport on Friday during the Bomber Invitational this weekend in Ben Light Gymnasium.
Senior right-side setter and middle blocker Liz Previte said the Bombers have played with fewer nerves and experienced better communication in their wins.
"We are telling one another what we need to do differently, and that feedback from player to player is really important," she said.
The Bombers' slide began Saturday, as they suffered a five set loss to eventual tournament champion SUNY-Geneseo. The Bombers committed three straight hitting errors to end the match, with the Blue Knights taking the victory 17-15 in the fifth set.
It was the team's second five set loss of the season. Their first was against Lebanon Valley College on Sept. 3.
Head Coach Janet Donovan said avoiding errors in pressured moments will be key to  winning the fifth set.
"We've just got to step up at key times and put the ball away," she said. "We're going to do everything we can in practice to create as much pressure for them like what we will face in matches."
Previte said the key to winning five set matches will be getting a better start to the game so the South Hill squad does not have to play from behind.
"Often we lose the first set, and it follows us in the back of our heads," she said. "We just need to focus on starting out stronger in the first set and building our confidence and winning in three sets instead of five."
Thoene said a lack of focus has often led to players being out of position and giving up easy points. She said sometimes the team is either out of position or not prepared for the next play.
"It's things that if you were mentally in the game and focused shouldn't ever be a problem." Thoene said.
A bright spot for the Blue and Gold has been the play of junior right-side setter Missy Weil and senior middle blocker Karin Edsall, both of whom have switched from their primary positions. Edsall has been a middle blocker for the past two seasons, but played as the Bombers primary setter last weekend.
Edsall set a career best in assists with 33 against SUNY-Geneseo. Her previous career high came in the match before against SUNY-Brockport when she recorded 25 assists in a four-set win.
Previte said Edsall had an easy-going  attitude toward what position she plays.
"Karen is just a go-with-the-flow kind of person, wherever she's put she plays, and she'll do her best at it," she said.
Weil practiced as a setter during preseason, but moved to outside hitter this weekend and proceeded to lead the team with 34 kills for the tournament.
Senior outside hitter Jessica Hoeffner said Edsall and Weil impressed her by excelling in new positions.
"It was great to see those two players step up and take ownership," she said. "We just need more people to get into that mentality."
Thoene said the Bombers need to find their focus in order to play at the consistent level they know they are capable of.
"Individually, and as a team, we need to assess why these mental lapses in judgment are happening so these past two weekends don't happen again," she said. "There have been glimmers of really good play, but we really need to be able to piece that together."