March Madness may be over, but this weekend, basketball has students lacing up their sneakers to make a run at the championship game.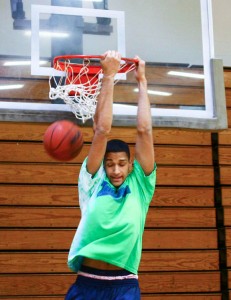 Ithaca College's chapter of the Public Relations Student Society of America will host the 11th annual Make a Swish for Make a Wish basketball tournament Sunday in Ben Light Gymnasium.
The tournament is set up to mimic March Madness — teams will navigate a bracket and try to avoid elimination. Sophomore Marc Phillips, communications chair of PRSSA, said the tournament is more than just friendly competition.
"It's become a staple in the Ithaca community," he said. "It really highlights how we have so many caring individuals who are willing to come out, play basketball and make donations to a worthwhile foundation."
Individuals can sign up in the Fitness Center or Campus Center and must pay $10 to compete, with all proceeds being donated to the Make a Wish foundation.
Junior Krystina Puleo, director of promotions for PRSSA, said Moe's Southwest Grill, Collegetown Bagels, Jimmy John's and Applebee's will provide food for the event. She said the community's response has been key.
"People look forward to it," she said. "There are teams that do it every year, and even some people who graduated last year are coming back to do it."
Senior Jordan Confessore, who has played for the women's basketball team the past four seasons and has taken part in the event since freshman year, said the tournament offers a different dynamic to the sport.
"It's really cool because you get to play on different teams with your friends, and it's ultimately going to charity," she said. "I'm excited to play in it again."