The women's lacrosse team held off a late charge from SUNY-Geneseo, winning 14-13 Wednesday at Higgins Field.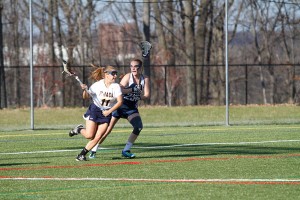 The Bombers led 9-4 at the half and junior midfielder Kim Ambruster scored the second of her two goals early in the second half to give the Bombers a comfortable six-goal lead. However, the Blue Knights responded with four straight goals to make the game close. After goals from senior attack Nicole Borisenok and junior midfielder Nikki Dahl, Geneseo went on another four-goal run to tie the game at 12 apiece with 8:58 remaining.
Junior Tracy Rivas, the Bombers leading scorer, responded with back-to-back unassisted goals to give the Bombers the lead for good.
Rivas led the Bombers with four goals. Borisenok added a hat trick while Ambruster, Dahl and junior midfielder Michelle Avery each added two goals. Junior goalkeeper Jess Worthman had two saves in goal.
The Bombers next travel to SUNY-Cortland to take on the third-ranked Red Dragons at 1 p.m. Saturday.