The women's swimming and diving team returned home to the Athletics and Events Center Pool, winning 15 out of 16 events in a 238-56 rout against Alfred University on Saturday.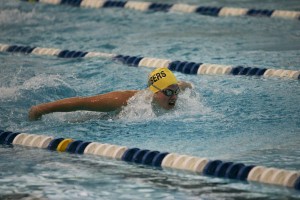 Junior Madi Sherry, sophomore Elizabeth Gawrys and freshman Megan Buisman were double-event winners for the Bombers. Sherry won the 50- and 100-yard breaststroke events with times of 31.12 and 1:12.19 respectively. Gawrys won the 100-yard butterfly in 1:01.33 and the 500-yard freestyle in 5:23.38, while Buisman won the 50- and 100-yard backstroke, finishing with times of 29.22 and 1:02.02 respectively.
Head Coach Paula Miller said she planed to diversify the lineup against Alfred, as many swimmers competed in multiple events.
"We let the athletes choose, she said. "It's hard doing the same events week after week."
Senior Jodi Costello won the 1-meter dive, scoring 228.82 points, while sophomore Korie Fackler won the 3-meter dive with a score of 260.55 points. Costello and Fackler finished second overall in the diving event they did not win.
Junior Carly Jones won the 50-yard butterfly in 26.92 and led the 400-yard medley relay team of Gawrys, sophomore Lauren Brundage, and freshman Kylie Bangs to first place with a time of 4:10.96. The 800-yard freestyle relay team of Jones, Gawrys, Brundage and Buisman also finished first overall with a time of 8:11.55.
The divers took the stage again yesterday when the Blue and Gold hosted the Dick Comanzo Memorial Diving Invitational.
Costello and Fackler were at the top of the leaderboard again, but this time they scored high enough to surpass the NCAA qualifying standard of 410 on the 3-meter dive. Costello led all divers with a combined score of 426.10 points, and Fackler was second with 421.20 points.
Costello said the atmosphere was completely different, as there is usually a lot of action and noise surrounding the pool during a regular meet.
"There's not as much energy in the stands, but we bring it all down here," Costello said.
The Blue and Gold conclude their regular season at 2 p.m. Saturday with a meet against Union College in the Athletics and Events Center Pool.
Jones said the team is extremely motivated to start competing at their peak level.
"We definitely want to finish out the season undefeated," she said. "It's been one of our goals since day one."