In Spring 2023, Ithaca College senior Seessa Kauffman left Sigma Alpha Iota's Epsilon chapter — the college's professional music fraternity — after he said he experienced racism, lack of inclusivity and dismissive behavior from his peers in the fraternity. In August, Kauffman put together a petition to hold the fraternity accountable for their racist actions and received over 400 signatures.
In his petition, Kauffman asked for an apology — which he said he received from most students involved in the fraternity but not all — and a refund of about $300 that he spent on initiation. Kauffman said he is still in the process of getting his dues refunded and is in touch with the national SAI chapter. 
The SAI Epsilon chapter at the college is currently working with the National Executive Board and said in a joint written statement by members that the fraternity is looking into the matter and actively working on diversity, equity and inclusion programming that will be mandatory for all members.
"Sigma Alpha Iota Epsilon Chapter over the ongoing months has been actively and thoroughly investigating all racist actions within our chapter especially as it pertains to the petition and its creator," the statement said. "We do not accept this type of behavior and we expect better from past, present, and future members."
Culture in the School of Music, Theatre, and Dance
Kauffman is not alone in experiencing racism, microaggressions and exclusion at the Whalen Center for Music. This sense of a lack of belonging extends to the other departments in the School of Music, Theatre, and Dance as well.
AnnaJo Lubasi '23 was a musical theatre major at the college and said their experience as a Black student in the Department of Theatre was isolating.
"I think being one of the only people of color in my class, and being the only Black musical theater major and in a lot of those spaces, where it was just me being an island in that way … [was] both powerful and also super terrifying," Lubasi said.
While there is no public data on ethnicity and race in specific schools at the college, Kauffman said he estimates that there are between 45 and 50 students of color in the Center for Music, according to the Musicians of Color Association's (MOCA) email list. A total of 702 students are enrolled in the School of MTD for Fall 2023 and 364 in the Center for Music specifically, according to the Office of Analytics and Institutional Research. 
Lubasi said that when they were a first-year student in Fall 2019, students in the former Department of Theatre Arts posted the "Manifesto of Visibility" across Dillingham Center. 
The manifesto was created and posted after a racially charged incident, which involved an interim lecturer asking her students to write racist slurs on the classroom whiteboard. The manifesto outlined students' negative experiences through anecdotes and quotes. 
Senior Achille Vann Ricca said it was a monumental point in the Center of Theatre and Dance's history. 
"It was a big watershed moment because the department … really ran on a culture of silence then," Vann Ricca said. "The manifesto disrupted that pattern and was a big call out for a lot of the professors."
Catherine Weidner, professor in the Department of Theatre and Dance Performance, was the chair of the department at the time the manifesto was posted. Weidner said via email that the department made changes to policies after the incident. 
"Important changes in casting practices and policies have been implemented including offering opt-ins, content advisories, and increased student participation in season selection and governance," Weidner said.
In summer 2020, a series of Zoom meetings called Open Spaces followed to facilitate conversations around diversity and race. Steve TenEyck, associate dean in the School of Music, Theatre, and Dance, said via email that Open Spaces was not a direct response to the manifesto. 
Vann Ricca said he participated in some of these sessions that the Center for Theatre and Dance organized and noticed a pattern among faculty. 
"There's a level of emotional childishness with a lot of these professors where when you come to them … it is white male fragility," Vann Ricca said. "They tense up and then go on the attack."
TenEyck said the sessions were programmed to create a safe space at a crucial time, especially after the murder of George Floyd and during COVID-19, when the theater industry was on a pause.
"We provided those spaces as a way to connect and support one another," TenEyck said. "Response was positive and it provided a way for us to gather and unpack terminology, best practices, as well as unpacking how things work in theatre arts."
In Fall 2020, the Ithaca College Department of Theatre Arts Black, Indigenous and People of Color (ICTA BIPOC), a student and alumni group, released a public letter that included actions and demands as a response to discriminatory and racist behavior and practices in the department.
As an immediate response to demands outlined in the letter, that semester, two Equity, Diversity and Inclusion facilitators were appointed to work with the department. Biweekly meetings between ICTA BIPOC and college leaders were held.
 TenEyck said a committee called IDEA — which stands for Inclusion, Diversity, Equity and Accessibility — was created within the Center for Theatre and Dance in Fall 2021 to support antiracism by facilitating workshops and learning sessions. TenEyck said the work of this committee led to the creation of "Race and Theatre in the United States," a required course for all theater students. TenEyck said there is also an IDEA-B committee for the School of MTD overall. 
Vann Ricca said that in addition to modifying pre-existing courses and adding new required courses, some faculty also incorporated diverse structures into their syllabi. However, Vann Ricca said he felt that issues still persist.
"The structures in place are still very, very racist and f— over Black students and all students of color in so many different ways," Vann Ricca said.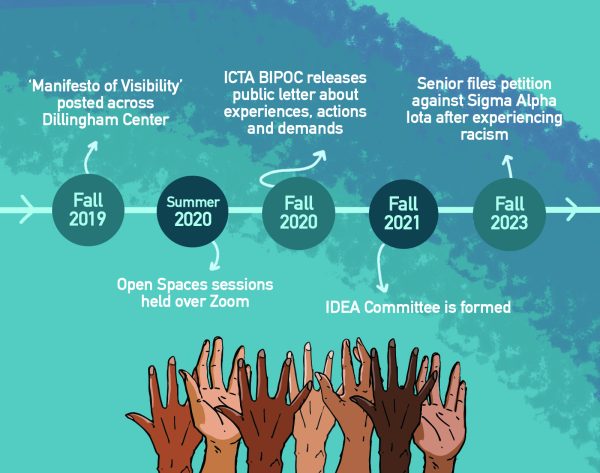 Resources available to students 
Kauffman said that in his case, he was strongly supported by the BIPOC Unity Center in the process of getting his dues back and received guidance. As of Nov. 10, two out of three members of the BIPOC Unity Center's professional staff are no longer employed at the college. 
Other than the BIPOC Unity Center, there is no central resource for students of color in the School of MTD specifically to reach out to for counseling and resources. Lubasi said they wished something like that existed. 
"I almost wish there was like a class or like a forum where you could go and speak to people that are performing artists … that are of various denominations so that they can be like, 'Hey, these are the hurdles and hoops and knives that are going to be thrown at you,'" Lubasi said. "They happen to everybody. This is not something wrong with you. But you have to know that is going to happen."
Baruch Whitehead, associate professor in the Department of Music Education, said he is the only tenured Black faculty member in the Center for Music. Whitehead said he informally offers himself as a resource to students of color.
"I think our white counterparts don't even know what that feels like," Whitehead said. "What it feels like to be a person of color and always having to do the heavy lifting, always having to prove yourself."
In Fall 2023, Whitehead said he hosted a session with students of color in the Class of 2027, who were enrolled in the School of MTD to familiarize them with the challenges of being at a predominantly white performance school. Whitehead said he hopes to include this kind of orientation programming across different schools at the college. 
In 2020–21, postsecondary institutions granted a total of 2,066,445 Bachelor's degrees in all fields, according to the National Center for Education Statistics. In the same academic year, only 7,548 Black students received a Bachelor's degree in the visual and performing arts. 13,884 and 6,080 students who identified as Hispanic and Asian and Pacific Islander respectively received a degree in the same fields. 
Lubasi said that when they were at a low and lost faith that changes were actually going to be implemented, student organizations like Black Artists United served as a safe space for them. 
"We created Black Artists United … because there was nothing," Lubasi said. "There was nowhere to go and there were a lot of issues that just kept perpetuating."
Lubasi said BAU was originally called Black Femmes United and was formed in 2020 to forge solidarity among the few students of color in the Department of Theatre. Lubasi said Black Femmes United formed in 2020 and was changed to BAU to open up the student organization to a larger group of students who were also underrepresented. 
"I'm glad to have spaces like that," Lubasi said. "The POC [in the] department have to forge this camaraderie because it's like this unspoken understanding. And you're going to have to deal with 50 to 85 times more bull— than every single one of your white classmates."
Department initiatives and efforts
Vann Ricca, who is the current co-president of BAU, said there are many power structures and dynamics at play in the Center for Theatre and Dance. Vann Ricca said that as performance majors, students are required to act in a production and students can fill out forms that indicate their preferences for what roles they are cast in, but these preferences are often ignored. This leads to students being compelled to take whatever role is offered if they wish to graduate on time.
"Dillingham is very insular," Vann Ricca said. "The professors control a lot of your opportunities to perform to study your craft."
Weidner said current casting policies aim at giving students of color opportunities to participate in different performances, including those that do not have a specific racial or ethnic requirement.
"Plays are chosen with our student company in mind, so we won't select a play or musical if it can't be cast with more than two or three options from within the student body," Weidner said. "Similar choices about repertoire (what we produce) are made with regard to vocal range or instrumentation in a score." 
Vann Ricca said there were some issues with the implementation of these casting policies that were brought up at the time the manifesto was posted. 
"Another component of the manifesto was, you can't swap students of color around for different roles," Vann Ricca said. "One of my [student mentors] was Pakistani … and they made him Cuban. … And he was always like, 'I'm not comfortable with this. I can't do this.'"
The department currently follows an open casting policy, meaning directors can cast students in any major or year and of any age, ethnicity or gender. Weidner said the center is committed to diverse and inclusive casting while respecting the playwright's creative intentions and licensing agreements.
TenEyck said the work of the IDEA committee also resulted in other changes, like land acknowledgments for performances — which are independently created by each performance company, usually in consultation with an indigenous staff member — and including more students in decision-making processes. 
"I think it is important to note that while there has been significant work done and awareness heightened, we know that we still have much work to do," TenEyck said. "This is not something that we are proud of but a reality we must contend with. We are committed to doing the work, however painful and however long."
In Spring 2023, the School of Music organized a concert in honor of Martin Luther King Jr. In the concert, "Don't Look Away" premiered. "Don't Look Away" was a requiem — a musical piece in remembrance of the dead. The piece was in honor of Martin Luther King Jr. and invited white audiences to assess their privilege and biases without experiencing guilt. 
After the concert premiered, the campus community expressed mixed reactions about it. Senior Madison Almonte, vice president of MOCA, said some felt uncomfortable about the fact that the choir was mostly white but was singing about and chanting Black Lives Matter.
Almonte said the requiem was deliberately written about the Black Lives Matter movement from a white person's perspective. Students of color worked with the librettist — who wrote the lyrics — to ensure that the piece was not offensive. Almonte said that including a white person's perspective was intentional to facilitate further conversation. 
"We started with a … notion of this will be uncomfortable, but it's supposed to make you uncomfortable because it was supposed to be followed with action and actual conversation," Almonte said
Almonte said the requiem moved to practice very soon and students did not have enough opportunities to check in about the lyrics of the piece or be adequately involved in the entire process. Almonte said the incident demonstrated the Whalen administration's willingness to educate the community but was poorly executed. 
"It just felt so rushed," Almonte said. "That was so unfortunate considering how monumental this premiere was supposed to be." 
Vann Ricca said he feels bleak about the culture of the Center for Theatre and Dance changing anytime soon because even when he has made efforts to educate the community and take action, it has been in vain. 
"There has not been any healing or any recourse or any actual accountability aside from 'Oh, we should have a meeting,'" Vann Ricca said. "I appreciate that [TenEyck] did use the resources within his toolbox but they are limited because [the effort] needs to be top-down."
Lubasi shared a similar feeling about the School of MTD as a whole making efforts to improve the situation, but not doing it successfully. 
"One thing about Ithaca is they will beat you down and make you feel like you owe something to them until the moment that you become successful independently," Lubasi said. "It feels very self-serving. … Their hearts could be in the right place, but the labor is not going where it needs to go."