Sitting around a bonfire, senior Zach Samuels and his group roasted s'mores and reminisced about their long day of work. They had spent the day outside, preparing the Kiptopeke State Park for incoming campers and removing trees that overcrowded the forest.
"I found it pretty awesome how such a diverse group of people coming from all different majors, all different years in school, all walks of life could just mesh and integrate and communicate and just form together as a team to just cooperate throughout the week and just work as a team," he said.
Samuels was one of 45 Ithaca College students who spent their spring break playing with children, providing food to the homeless, cleaning up beaches and more. Students traveled to five different locations across the East Coast from March 12–20.
The programs and their respective locations included Park Preservation Experience at First Landing State Park and Kiptopeke State Park in Virginia; Youth Mentoring and Cultural Exploration at the Seneca Nation of Indians Allegany Territory in Salamanca, New York; Coastal Conservation and Oyster Restoration in Outer Banks, North Carolina; and Food Justice in the Urban Environment in Washington, D.C.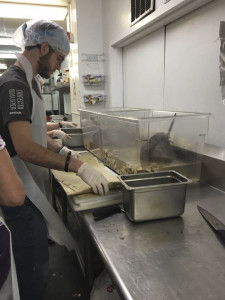 Each year, about 40 students attend the Alternative Spring Break trips, said Don Austin, assistant director of community service and leadership development in the Office of Student Engagement and Multicultural Affairs.
Through the Alternative Spring Break program, Austin said, he wants nothing more than for students to begin with an open mind and discover more about themselves. He said he hopes they step out of their comfort zones and learn more about how they want to help the world.
"I just want people thinking about, 'What's the next step,'" he said. "What that is, is totally up to them."
Austin said he went to Outer Banks to help clean up the North Carolina Coastal Federation's rain gardens. This landmark helps to sustain of the area, he said. The group worked on diverting residential and commercial stormwater runoff from oceans and estuaries in the area. He said they worked on organizing the office area and preparing the oyster restoration project.
Senior student Kristopher Bosela attended the trip to Washington, D.C., where he worked with several food organizations serving residents in the community. After taking a trip last spring break that focused on park preservation, Bosela said, he wanted to volunteer with a program that allowed him to have more interaction with the people he was helping. While the Food Justice in the Urban Environment trip didn't include much work with D.C. community members directly, Bosela said, the group did have opportunities to explore the city and interact with those whom they were helping. He said he loved learning about the culture of D.C. and hearing stories from the people living there.
One of the organizations the group volunteered for was D.C. Central Kitchen, which hosts an emersion program to help those who have experienced addiction, homelessness or time in jail by teaching them entry-level job skills so they can find jobs to jump-start their lives.
One of the volunteers, Will, impressed Bosela with his genuine kindness and made him feel welcome, he said. Later, Bosela said he and other group members were talking with another volunteer who said Will had been incarcerated for 10 years. Bosela said he was shocked and that his preconceived notions of inmates were unfounded after meeting Will and hearing his story.
"It really grounded me," he said. "It broke down a lot of the stereotypes that are just inherent bias that you develop over different years. You grow up seeing images of people who are in jail being really rough, nasty people. In the movies, they're always really big, mean people. That's our perception growing up. That's completely not the case at all."
Bosela was shocked by the difference between the clean, modern conditions of the streets in D.C. and the conditions of D.C. Central Kitchen's street where many homeless people would gather for food and shelter.
"We turned the corner of the street to walk up to the D.C. Central Kitchen building and the thing that struck us was that it completely changed from one side of the street to the next it went from being pristine to not so clean and very dirty and very, kind of, unkempt," he said. "There was a weird physical divide from one side of the street to the other and it was really jarring, to be honest."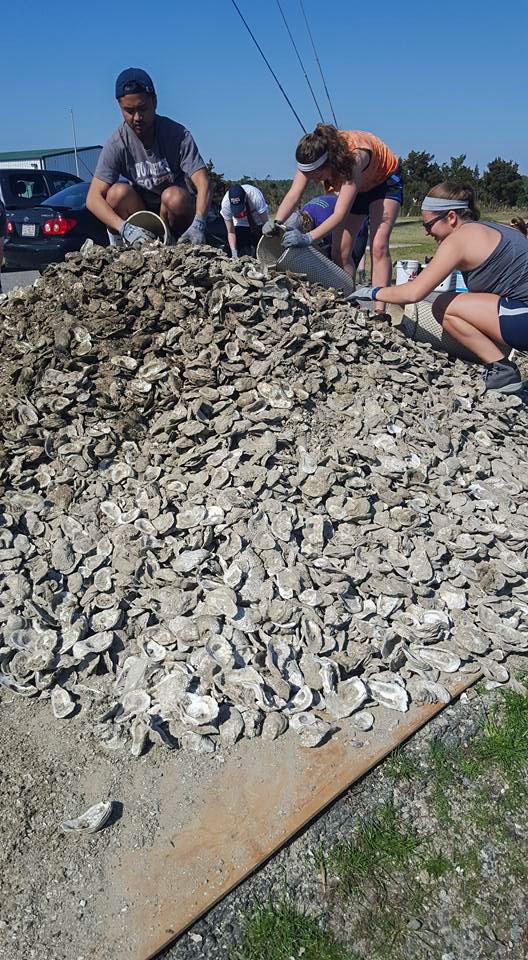 He said the people he interacted with changed how he saw the community as a whole.
"To meet them and to engage with them and talk with them — they're some of the nicest people I've ever met," he said. "They're the most genuine community that I've ever seen. It was really impactful for me because it really breaks down a lot of the stereotypes of what people expect from inmates and what people expect from people who have gone through those types of things."
Sophomore Hannah Blanchette traveled to the Seneca Nation of Indians Allegany Territory in New York, where she spent four to six hours each day with students whose parents couldn't pick them up immediately after school. Blanchette said she did the same trip during her freshman year and wanted to go back. She spent her time with the children doing crafts, playing with toys, playing sports and helping with homework. She said she would also go with a few of the students to a soup kitchen across the street from the school, where they ate dinner some nights.
"These kids are very underprivileged, a lot of them, and they come from a lot of poverty and really bad home situations," she said. "It's just really great to have an opportunity to be a good role model for them and give them a safe place to be for a week."
She said one of the most difficult parts of the trip was trying to keep the children off technology and engaged in life. One boy, she said, would arrive at the program and use his phone until it died. By the end of the week, Blanchette said, he would arrive and immediately join the others in playing games and doing crafts. She said it was difficult, at times, to find a connection with the children, but when she did, it made the trip that much better.
"It's just so heartbreaking to hear what they have to go through," she said. "Stuff that, some of it, I never have to think about in my entire life, and these kids are already facing it. But at the end of the day, you just look at them, and they're just kids, and that's the way that you connect with them is just letting yourself go a little bit and becoming a kid yourself."
This article has been updated to correct the photo caption, which originally misidentified the subjects of the photo.