In a small upstairs room in the back of the Community School of Music and Arts hides the Ink Shop: a printmaking center and gallery that has been serving local artists and the Ithaca community for 17 years.
Until Sept. 30, the Ink Shop is holding its annual print sale to raise money for the shop and participating printmakers as well as to provide unique art to the Finger Lakes area. The sale is one of many events the Ink Shop holds throughout the year. Sept. 2 was its opening night.
Craig Mains, director of the Ink Shop, said the art on display comes from a wide array of artists. Many participate in the sale to earn part of the proceeds, while some donate their art to be sold.
"We just bring out everything we've got," Mains said.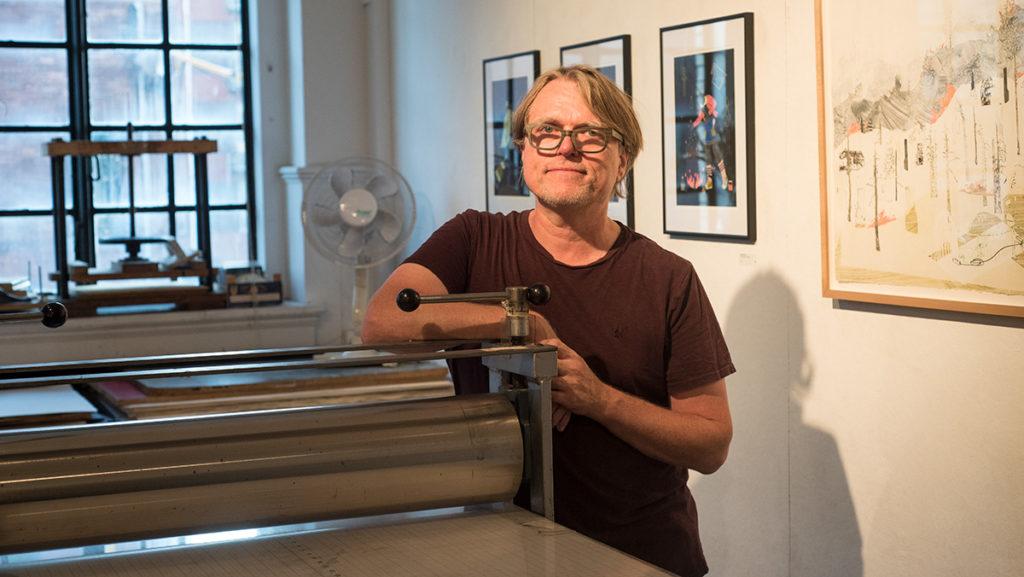 The Ink Shop has about 30 to 40 members, and some come and go. Much of the artwork for the sale was created by current and past Ink Shop members as well as other local artists. Some were printed by Olive Branch Press, an Ink Shop–affiliated press company that produces professional editions of hand-printed pieces as well as artist books created by artists. Since the shop has been around since 1999, some of the pieces for sale date back as long as the Ink Shop itself.
Gregory Page is a founding member of the Ink Shop and an associate professor of print media and drawing at Cornell University. A piece of his is displayed on the back wall of the shop. At first glance, the print resembles a splash of water or a splatter of paint frozen in action. However, Page explained that this print was actually made from a large palm he found in Edinburgh, Scotland. He said he sees his creation as a collaboration with the plant and enjoys observing the details and textures plants present when lithographed.
"What I was interested in with this was actually having the plant to render a very different type of impression of itself," Mains said.
Christa Wolf is another founding member of the Ink Shop as well as a former student of Page's. Wolf also uses nature as a subject and makes colorful water-based monotypes. Her pieces are whimsical, and the soft lines that come together to shape the images appear organically and effortlessly placed. One of Wolf's prints, entitled "Night Shade," was inspired by a scene from her farm. She said the creation of her art is a personal endeavor.
"I think in my heart, I'm kind of a romantic," she said.
Page said the collaboration of artists and artistic styles is what makes for such a special and educational viewing experience.
"I think we all have our own unique artistic subject matters that we're interested in," Page said. "I feel I look at myself as adding to the whole and making the entire experience for the viewers much richer."
Multimedia Editor Luke Harbur and Assistant Photo Editor Jade Cardichon contributed the audio clip to this article.