The children of the late '90s and early 2000s were reared on a diet of "Harry Potter"; millions of children dreamed of a chance to enter Hogwarts' Great Hall or tour the village of Hogsmeade. The City of Ithaca whetted their appetites last year and has bigger plans for a weekend of wizarding fantasies this year.
From Oct. 27 to Oct. 30, Ithaca will run its second annual Wizarding Weekend. Vendors distributing confections, artists selling magical wares and special events inspiring even the stodgiest muggle — with months of meticulous planning, the Ithaca community will be imbued with magic.
The event began as a single-day event in 2015 after several local teens inspired the owners of businesses in Press Bay Alley, a strip of local shops, to transform their part of Green Street into a model of J.K. Rowling's Diagon Alley. Darlynne Overbaugh, creative director on the Wizarding Weekend Executive Committee and owner of Life's So Sweet Chocolates in Press Bay Alley, said the event exceeded expectations by attracting nearly 8,000 attendees from across the country. The event this year is already receiving renewed attention from national news outlets like the Huffington Post.
Dozens of local Ithaca establishments are participating in Wizarding Weekend, and it has provided opportunities for Ithaca College students as well, from the artistic to the business-minded.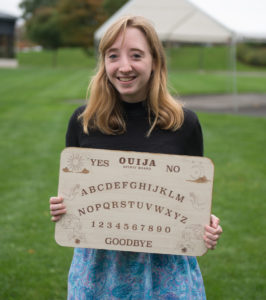 Overbaugh said she jumped on board last year thinking it would be a fun side-activity but was blown away by the enthusiastic reception. This year, she said, she wants to take her experience from the initial event and translate it into something that will draw new, passionate fans to Ithaca. The result has been tiring, but rewarding, she said.
"This year is a lot of fine-tuning," she said. "The real emphasis for the weekend is on the businesses that are downtown."
Overbaugh said this year's celebration has expanded in scope, stretching across four days, centered around Oct. 29.
Exclusive vendors will appear from 10 a.m. to 5 p.m. Oct. 29, including wand makers, face painters and tarot card–reading experts. Special ticketed events will also take place that range from a Wizarding Breakfast at Hotel Ithaca to a screening of National Theater Live's Frankenstein at Cinemapolis. On the same day, food trucks and stands will purvey themed delicacies reminiscent of the fare served on the Hogwarts Express or at the Great Hall dining tables. Overbaugh said returning activities will include Wizarding Chess and dueling. Public events will range from costume contests to wizard rock bands to a performance at the State Theatre of Ithaca by mind reader and Ithaca College alumnus Eric Dittelman '07.
Senior Ashley Ahl, an integrated marketing communications major, has been working on promoting the event both on and off campus. As part of her capstone project, she said, she and a team of other students are writing press releases, reaching out to residence halls at the college and working on the event's social–media presence on Snapchat.
Ahl said the potential for increased tourism to Ithaca and the aid of grants has enabled Wizarding Weekend to grow from a what-if to a massive town-enveloping celebration of the world of Harry Potter.
"Part of the money for the weekend is funded through a grant for the tourism program of Tompkins County," Ahl said. "It's centered in Ithaca, but it's something that people from all around are interested in because the "Harry Potter" culture is something that attracts a lot of people."
Ahl said she and her peers were enthusiastic about this project because it pulled together their academic skills and their passion for a series that was prominent in their youth.
"I think that it's a great opportunity for Ithaca students," she said. "We're doing things for real–life clients, and this is work that we can show to future employers."
Sophomore Nicole Marino, a double major in film, photography and visual arts, and environmental studies, is participating in Wizarding Weekend as a customized Ouija–board vendor. After working at Ithaca Generator, a nonprofit design space located in Press Bay Alley, in Spring 2016, Marino said, she took to the idea of creating her own customized Ouija boards. She noticed a gap between the two types of Ouija boards available on the market.
"The only ones you could buy are, like, the Hasbro ones, or you can buy the super, super $100–plus expensive ones," she said.
Marino said she engraved her own boards, even marking the planchettes — the eye-pieces of the Ouija board — with owls and the geometric marker of the Deathly Hallows, for the event. She said Wizarding Weekend brought together her childhood love for "Harry Potter" and her current artistic pursuits.
"You can design them to fit any theme," Marino said. "I actually made a 'Harry Potter'–theme Ouija board that I'm going to sell at the weekend because I grew up on 'Harry Potter,' and it was my favorite thing."
Marino said she also sees the event as a learning opportunity — a chance to watch her fellow creators at work.
"Last year I went just to kind of see what was going on," she said. "But now that I'm going down as a maker, I'm curious to see how other people are taking things they make and adapting them to the weekend."
Overbaugh said the participating businesses are working to make the weekend special by decorating several storefronts weeks in advance and preparing themed items and treats. Overbaugh herself is making over 40 wizard-themed food items for the event, but she said she feels it's worth it.

"This is our opportunity to do something really special and fun for the community, to showcase why magic lives in Ithaca year-round," she said.