Players from each team take the track, ready to jam and block their way through their bout. The whistle blows. The two jammers, one from each team, begin pushing and shoving their way through the wall of blockers.
Violent contact is a key part of roller derby, where players on roller skates score points by lapping the other team on a flat track. Despite this, as soon as the players get off the track, they go back to feeling a strong sense of camaraderie.
The SufferJets and the Blue Stockings are the two teams that make up the Ithaca League of Women Rollers. Both teams are composed of women because men are not allowed to play in the Ithaca league, but they are able to referee.
David Kornreich, assistant professor in the Department of Physics and Astronomy, is in his third year as a referee. He said the violence, feminist mindset and friendships that make up the sport are why he finds it enjoyable and likes being a referee.
"There's a lot of camaraderie," he said. "Everyone is really good friends until the whistle blows, and then they are beating the shit out of each other. And then the whistle blows again, and then they are good friends again. I think that attitude is a great attitude."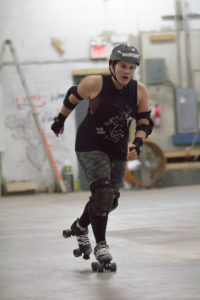 Madison Mangano '16, who had Kornreich as one of her physics professors, began playing and refereeing in August at the recommendation of her roommate Toby March '14, who has been a referee for almost two years. March began after some of his coworkers who were forming a league in Cortland, The Seven Valley Rollers, cornered him at his desk at work and told him he should ref. Mangano hasn't participated in an actual bout yet because the season does not start until the month of March, but she has been participating in the Fresh Meat training program.
March said this training program, which is required of everyone before playing on a roller derby team or becoming a referee, is intense.
"Every single team knows they have to teach people how to skate almost from nothing, so there's a strong training program that pretty much every league establishes," March said. "You go through that for about two to three months consecutively, and then you have skills tests along the way that you have to pass before you can actually become a member of the team."
The first four weeks of training are considered "level one," where newcomers learn the basics of roller–skating. Their trainers have to make sure that they are able to fall safely on their kneepads and learn to stop themselves. Once level one is passed, level two takes up the rest of their training. This includes learning how to hit people safely, stay in a pack of skaters, yell through mouth guards and build up endurance.
Players and referees are able to create their roller–derby name during their training. Their name allows them to become whomever they wish. Mangano said she decided to go with the name Mads-kills.
"It sounds more badass," Mangano said. "It's also encouraging me to get more mad skills."
The challenge of learning how to play the sport is one of the reasons so many people stick around. The first challenge, Mangano said, is learning how to skate because most women who try out for the team have never skated before. They have to learn how to balance on skates and build up their endurance for when they are in a bout and have to push others around. The women have to be able to jump 6 inches in the air and then continue to skate, turn around and skate backward, and also make plow stops.
The referees need to have extensive knowledge of the rule books to make sure the correct calls are made. Kornreich said the biggest challenge of all is being able to figure out which actions in the mess of players are legal and illegal.
Kornreich enjoys the challenges of being a referee — once the challenge is gone is when he would quit, he said.
"Refereeing is like solving a puzzle because you have to watch the game," Kornreich said. "You have to watch the game while skating. You have to watch the game while skating for certain things to happen. It's like flying an airplane because you have to have the agility that a pilot has to have to fly an airplane."
As a player, Mangano said the mental challenges are far harder to overcome than the physical challenges.
"There was this one point where I was like, 'I can't do this,' and I had to stop myself and be like, 'No, I just have to learn how to do it,'" Mangano said. "Mentally, it's more of a challenge by choice, but I'm going as hard as my body is allowing me."
March said that feminism — the rule books refer to the player as "her," and in Ithaca, the players are only women — attracted him to the sport because it is a queer-friendly space.
"There have been laws added more recently to explicitly state that players beyond just cisgender women are allowed to play roller derby," March said. "As it currently breaks down, everybody other than cisgender men are allowed to play on a women's flat track team."
This, Mangano said, has allowed the players to feel as if they are welcomed and supported by everyone. Mangano said her trainers are very encouraging by cheering for them when someone falls and reminding them that whenever something happens, it is just another learning experience.
"While I've encountered that in other sports, I've never been immersed in it in the same way that this is immersive, in just the 'We want you to do well, we want you to do this really cool thing we also love,'" Mangano said. "They call it getting the bug, and I've gotten the bug."